That does look nice… Alien… who makes em? Are they made in the states? I think there's one put together with a very similar colour scheme here in the Can.
Its inspired me to paint my daily ride cream and get some brown leather bits. I've just been to the local hardware. No cream enamel, honestly if I'd fucking gone in there looking for pink there would have been a hundred gloss cream cans in a discount bin.
If I ever find Murphy I'm gunna spit in his pint.
The first bike doesnt really get me going. But the stem on that DeRosa… my goodness. I think they really should have extended it a touch more, so it goes past the front of the front wheel (like the aerobars on my merlin) so you can just smack it on to the back of the derny and call it a day. It's awesome, and I hadnt seen it until now… thanks for the link!
That is good… WTF are those brake levers? I don't see any levers?
THey look and function just like bar-end shifters but are a little longer and with a different pull ratio for brakes.
Profile don't have em on their site any more so I guess the worked really well :roll:
they are the original profile quickstops…
i THINK they pulled in any direction. ie, it was a ball and socket with a lever attached. I've bid over $100US on em before, and been beaten. I've given up trying to get a pair. A few superstar triathletes (Terrenzo Bozzone had em on a bike last season) still use them. Apparently theyre hopeless and dangerous, but riding a flat 90km hotdog course doesnt require much braking.
Little wheeled bikes are absolutely massive in Japan. I don't get the appeal when they dont fold… I guess the wheels are stong.
crazy jet powered lil wheeled bike.
Faiyatorikku Bobu aka Firetruck Bob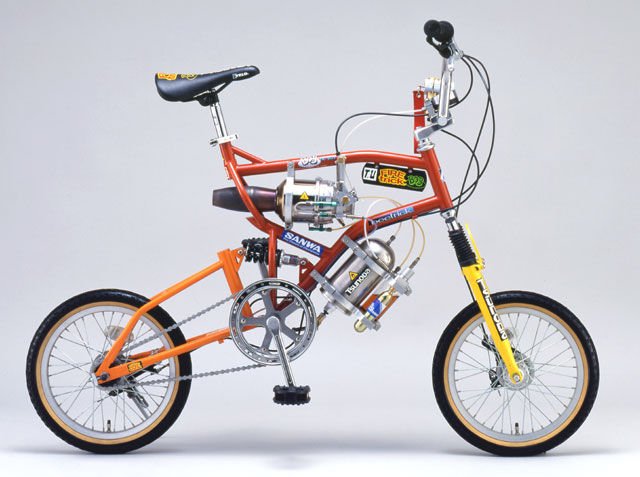 there's some other crazy ones. electric, water rocket and steam powered.
This Rossin track does it for me. The paint job on the frame is amazing, and everything else is just perfect. The chain sets it off. The clearance on the downtube / front wheel is so rad.
If i could have any bike it would be this
That is pretty sexy. I don't usually like all white bikes, but that's really nice.
Yeah, it's all in the correct proportions isn't it?
This is really quite nice…
The bars don't do it for me, but other than that…
Speaking of Cannondales…
Als much as this is a hipster bike, the bike Jonathon rode is MASH is nice in a piece-of-shit kind of way.
I quite like that one too… but overall, Rossin gets my vote for the best bikes that are never done justice. Their BB shells (among other things) are really top, top notch and I've seen some unbelievably nice roadies, but no really stunning fixed gear bikes. Rossin paint is unreal.
My all time fav is this classic De Rosa…
It's the Shamals too…