No experience with front racks.
but the photos below show i've managed to destroy a topeak super tourist DX rear rack. and damage the eyelets on my bike in the process. did manage to use a bolt extractor and re tap so they are now useable again. I fixed up the one shown the photos below using a metal epoxy putty. Then the rack had an almost identical failure on the other side about 3 months later, i repaired it in the same way. Have been riding with it like that for at least 6 months now without a hiccup.
I bought the disc brake compatible rack as my bike has discs but during installation I realised that wasn't necessary due to the location of the disc brake in the rear triangle of my bike meaning there would have been no conflict with the normal rack.
I'm not to sure if the failure is due to:
[ul]
[li]poor contstruction, seeing as it failed at the base of the weld[/li][li]heavy use/abuse, I used this for daily commuting with a heavy load (laptop and steel toe caps) on off road trails around hornsby for about a year before it broke. Its supposed to hold 25kg. I wouldn't have thought i carried that much. but my commute was far from the typical[/li][li]the moment of force (torque) added by the 'L' bracket designed to give the disc brake clearance, seeing as it snapped the eyelet bolts also[/li][/ul]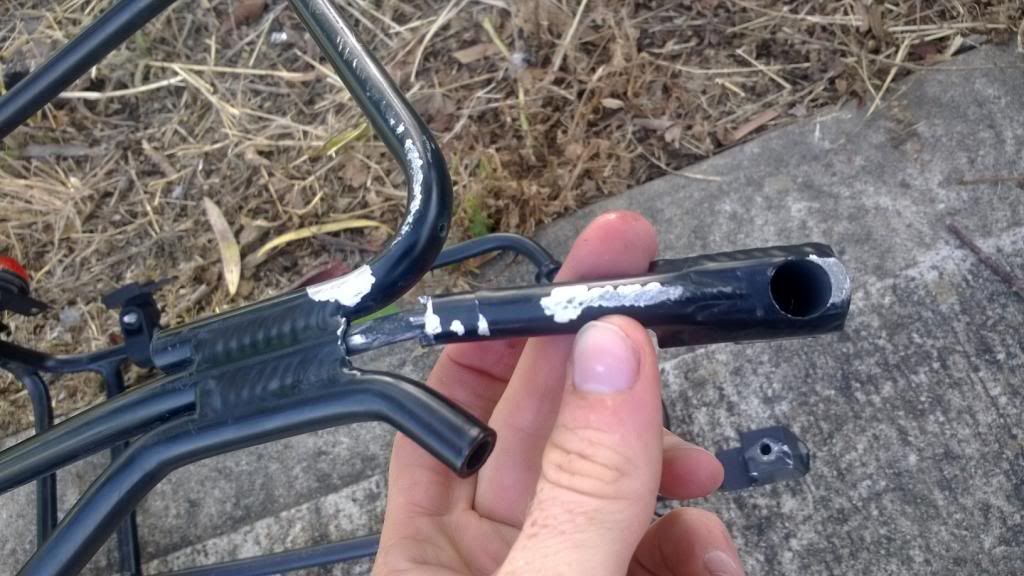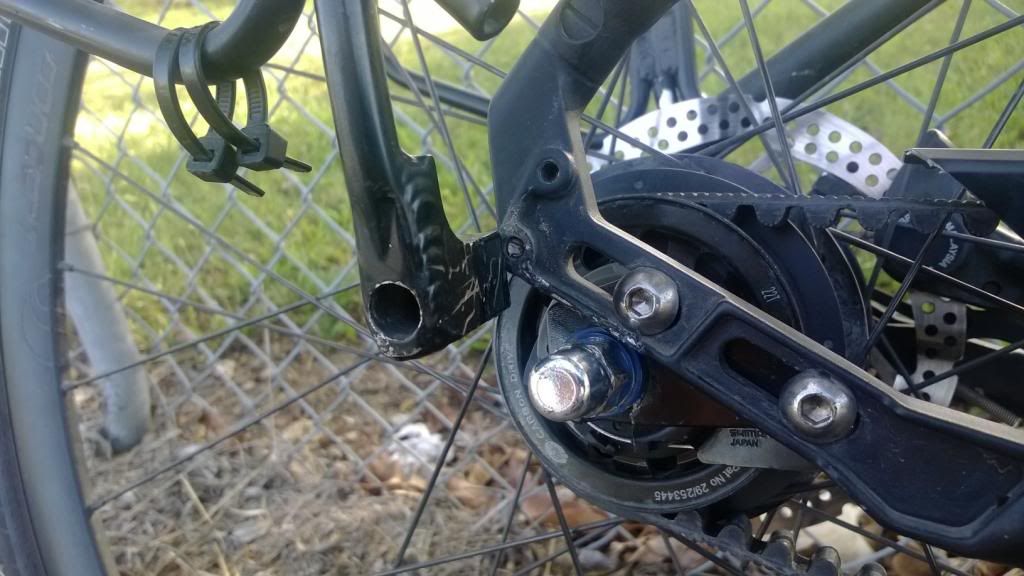 I hear P!N20 on the trouble with racks and kids seats. Have the same dilemma and have been considering xtracycles and big dummy's for a couple of years. At present my solution is 1 bike with a kid seat and one bike with a rack and a front basket on the wifes bike to carry stuff when we go out with the kids. I guess i could install front racks and panniers on the bike with the kids seat but the truth is its also my mountain bike so taking off a kids seat and a front rack when i want to hit the trails has me wanting the n+1 solution. That and my kids are now to big for the kids seat anyway.
Most couriers I know use CETMAcargo racks (myself included). They are the best option for most types of loading ex. boxes, folders, archives, clothes bundles, trophies, architect rolls, all of which I have carried on mine with relative ease since I got it. I'm not sure of the load capacity, but I love mine for a number of reasons; Its steel, its big, it attaches to the axel of your front hub. The combination of those things makes it very strong.
After installation I quickly realized I needed to space the rack out from my bars about 2 or 3cm to comfortably work the brakes and shifters, to do so, I installed U-bolts with washers that space the rack out from the bars which attach at which fix to the rack on either side of the stem.
It has been very stable with minimal flex although under heavy loads this is unavoidable.
I've got a Gamoh front rack that's moved around a few bikes I've owned. It's solid as hell and I've transported some pretty decent loads on it.
I like the guard rail for most loads that I transport on it, which include a work bag and the occasional slab of beer. But it got in the way with a recent transport that just wouldn't sit right on it and would have been a lot easier with just a flat surface.
Whoa, what a load of responses!
Thanks to everyone that has had an input so far.
I'll try to push this a little further just to get some more info.
I'm also taking an "electronic and interactive prototyping" class, working around either the Arduino or Electric Imp board, coding in C++. This gives me the opportunity to combine projects, giving me double the amount of time to work on the one project.
Although it would be totally ridiculous for most peoples cycling style on this forum, a rack with integrated electronic technology such as self stabilisation, weight distribution technology, weight scales or anything computer based really, could be integrated into this rack.
I've heard of "spark-free" warehouses that use cargo bikes to transport goods inside, and the potential that these warehouses could be transporting goods that require to be kept more stable than a standard rack can provide. Would a similar system to this be useful to anyone? My head says no, but I'm aware that the majority of people on this website have a greater bike knowledge than me, so there could be something I'm missing.
@MikeD, your photo stood out, as it was the only bike posted that was using a rack for touring purposes. Do you find that your setup should be more developed than, say, someone commuting to work with a backpack on the front?
@fixiechampion, you've said that that particular rack was relatively perfect off the shelf, but do you have any issues with the aesthetic? Obviously, being a courier, the aesthetic is a nothing factor for you, but if you were to put the same rack on a bike you take great aesthetic pride on, would you still be as happy with it?
@AL9000, the pictures you posted of the Spesh Globe Live seems to have a relatively shallow rack. Is this ever a problem? I've always found the shallow ones to looks way better, and figured that if you're strapping the goods down anyway the wall height wouldn't matter too much.
@LAM, your point about the "perceived dorkiness" of rear racks was very interesting. Does anyone know exactly why the rear rack is so frowned upon? It does seem like a much more practical option.
Thanks for all the responses once again, keen to hear any more opinions!
Man I'd just make something that displays the time, temperature and/or dirty ASCII art on the LCD rather than fancy stuff.
Factory use: rear load tricycle. Oh&s rules have pretty much removed bikes from factory floors.
Rear rack means panniers. Panniers off the bike are awkward and super duper dorky.
Don't put scales or any of that junk in the rack. That's up there with spokeless wheels from a designerbro POV.
For a front rack commute setup, the killer app is a messenger bag with some sort of quick attach fixtures that mate with the rack. Much like how mike d buckles his on. But more integrated like. Nothing left on the bike to steal, don't look like a dork off the bike, quick and easy to move from ride to walk. Easier than a rando bag plus decaleur off the bike but not accessible while riding at all. Different use cases.
Flat platforms let you attach awkward things. (Pizza! Firewood! Kerb finds!) Fenced racks retain bags and loose objects. Both have their place.
What are you going to do about the bike handling like shit with any real load on the front given that all your customers will own high trail bikes with inadequate mount points?
@potato Yes my rack is super useful for what I do 'off the shelf' but as it were the courier rack of choice, is a one man show in California and as such I have heard many people have had terrible experiences with him. I think if buying from him was a bit easier and his communication was better more people would have them and his brand would be a bit more well known. Spider ordered 2 racks from him and took over 8 months to be delivered. They are all hand made and he says he doesn't have a long wait list but that seems very excessive to me.
As for aesthetic, yes and no on the work bike. Black goes with everything so I took that, there is also silver, which if I had a White bike I might go for. If I were to get another one for another bike, I would want a similar sort of style, with a bit of a lip around the edges maybe to turn it into a very shallow basket.
If you are interested in cargo bikes, get in touch with Blaine from Cargone Couriers. Cargo bikes are his whole schtick.
Seems like this will be the most important aspect to this project.
Something that mounts easily and effectively, bag attachment fixtures, and a potential for flat bed or fences is looking like my direction at the moment.
I think it maybe worth your while to have a look at Brompton folding bicycles and their front pannier carrying system. Many brompton owners have modified their carrier blocks to accept front racks. Handling issues are minimised as the load attaches to the frame and not the fork. This is moving away from your project but could add some background knowledge.
Not really, its more that the rack is handy for day-to-day stuff and ok for touring to meaning I can ride the bike on an overnighter and around town without changing anything.
For bigger tours I take off the portuer rack and use a lowrider rack and panniers.
What blakey mentioned could be a good project starting point; a rack that integrates a non-derpy backpack/messenger bag.
For commuting I usually strap my messenger bag to the rack using the straps on the bag, it works well but is a little slow to put on and off (I copied dfunkts style).
I like the front rack for bulky stuff (not necessarily heavy as it handles like shit with ~10kgs on it) as I can keep and eye on it, and its good for traffic as I know if the front fits through the rest will too.
i'd like a carbon fibre rack. i'm not saying it's a good idea, i just want one because fuck yeah carbon
Talk to Handsome Dave in Melbourne. He loves making shit out of carbon.
Meh. Cr-Mo tubing is where it's at.
Update plz? What did you make? Tell me it wasn't a smart helmet.
Haha the smart helmet was awesome! The renders looked straight outa 1998
I've got a Cetma 5 rail job. Had it for 3-4 years. It's awesome. I've had really heavy shit on it too. From piles of books to a wooden bench. Chest of drawers from hard trash. Never had a problem. Only complaint is that it's heavy.
thinking i might sell it actually. and replace it with one of those Wald Pizza tray racks.
Any of youse got one of them?