Frame via Rhino
Wheels via AbC
Street guise

Track guise
Hubs via Marley
Rims via TC
Spokes via Dan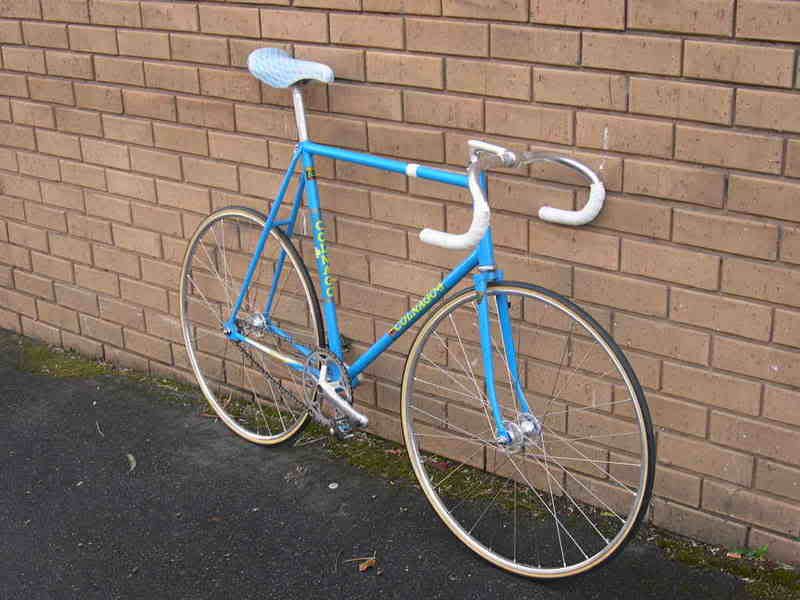 lucky you didn't call it the fauxxxnago.
Nice Beretto Chris.
I do like the classic track guise look, as compared to the BSNY hipster street fitout. However, if you must run risers, do add a top-tube pad and bandana to complete the look punk.

Point of order: You forgot: "onion bag via mj". Thanks for nothing…

What are the track bars - they don't look like they have a very deep drop?
And what are the hubs and rims and… hell - tell us about the rest too?
Oops I've been yellow carded: Bag of onions via MJ

It's really comfy actually, more than I initially expected.
Not even sure how one would go about pronouncing fauxxxnago…?! Fozzzznargo maybe???
The bars are just some Cinelli track jobbies on a 3TTT stem, maybe it's the angle.
Hubs are those DA's I got off ebay ages ago, rims are Fiamme Reds, hand polished turned out pretty good.
Those track wheels aint goin no where near the road, so friggin light!
BSNY?
Excellent - glad it found a good 'home'!
Those wheels sound identical to a set I have - and yeah, they're light - have you ridden them at DISC yet - do you notice the acceleration? What tubs didja get and did you glue them yourself? And when you say that the wheels are hand polished - didja polish the hubs too or just the rims? (hubs would be hard work, to get all the clear coat off!)
Ha! - more questions.
(BSNY - Bike Snob New York)
Oh that fvckwit? Pfft he probably rides himself more than his bikes.
Anyway, when I got the hubs they had this shitty black paint splatter on them which came off easy with 000 grade steel wool (hand polish refers to the rims only).
Haven't actually glued the tyres on yet, they were on there stretching so I thought I'd take some pics while the chance was there! They're Challenge Track Tubs that I got off some guy named Tony O'Connor from Sydney who's training for the worlds in October.
Will let you know about the speed when I see you at DISC aight

Nice one, I'm really starting to have a thing for the natural sidewalls after feeling a pair of Veloflex tires. Damn fine
Also are you sure the bars/stem are compatable? I was fairly sure that Cinelli were the only ones tha made stuff that was 26.4mm. Which means you can fit a normal bar in their stems but you have to tighten the buggery out ofit to get it to clamp.
-Garth
Which is a bad idea because eventually the stem will crack at the clamp, and kill you instantly, along with everybody in a 1km radius.
3TTT made a Cinelli compatible 26.4 stem (I think! Otherwise I have a Cinelli bar in a very stretched 3TTT stem!)
Hey Chris are the 'Challenge' tyres a Veloflex track tub?
Garth: Dunno, it's in there and doesn't move so…
853: I think we've had this conversation before yes?
MJ: Veloflex and Challenge are two different companies. Challenge are made in Taiwan, Veloflex are made in Italy right?
Got some Campy GS cranks to go on there soon too, just gotta get a ring and bolts then CRACK!!! :mrgreen:
Correct. Veloflex are hand-made in Italy. I'd never heard of Challenge tyres to be honest.
Chris, good to see the acquired 'brain injury unit' is letting you out on the street. We need more 'special' people around.
Comfort in masses? :evil:
…and what? You break them?
Looks good with the riser bar and that saddle looks special.
How's it ride? Toe overlap? What's it like to fall off?
Did you go into that bookstore today? I was in the coffee shop and a tall dude in a helmet walked past, but I had a mouth full of toast and couldn't reply. Anyway, hope to see you two out a Saturday not too far from now.
VELOFLEX TYRES ROCK
did i get my point across?
Oi long time no hear mofo

I know some of the fixie fashionista's out there will gasp at the site of a mixed saddle and grips color, but fucked if I'm spending up on white grips to match! he ride is great, was pleasantly surprised at how well it climbs, like Alfred Gregory after a few choice long distance shots on the big mountain. Pretty much no overlap, just angle the foot back a titch and it's fine. Only dropped it once so far in the wet a few weeks ago, friggin tram tracks grrrr
As far as the bookstore sighting goes, thats a negative. Last time I was in there was at least 3 weeks past (Terry Pratchett kicks arse!). Faunago sightings will be fewer now, I'm getting the Pug going gain to use as the street hack, saying that though knowing me I'll switch back in a month anyway!
What was that about Veloflex Lats?

Looks nice and happy…
Frame is a Beretto indeed.
on a side note…
sweet road faunago at Dave's Boutigue on Smith St Collingwood at the mo for $400.
Beautiful white colour, rolls saddle, 105 gruopset i think. light too.
check it out and offer em $350!