This thing is amazing
Track Bike - Hand Built Cyclops by Mike Mulholland | Trade Me
Rear stay madness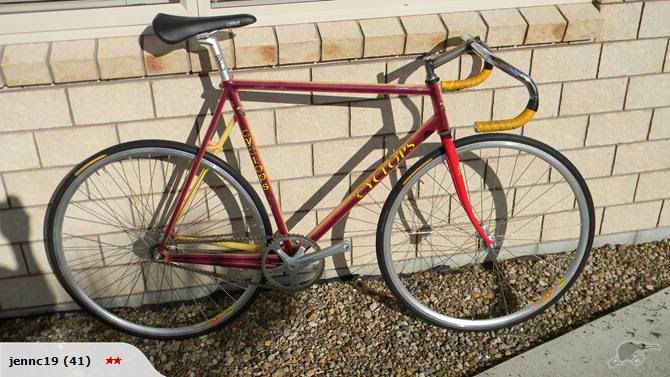 Hey Nik, doesn't one of your BC friends have a crazy Cyclops?
Mike built some great frames.
Worth the $, goddamn that's nice.
Cool … √
Crazy …√
More than a little bit dumb … √
The BIN works out at just over a grand AU. Great buying!
fuck me thats my size… i have waned a cyclops since i first heard of him a few years ago
oh my dude, birthday present to yourself!!
im going to try get it !!
yes. id need to have a dig to find some shots.
i have passed up a couple over time… he made a bunch of really simple, but hardy track frames. i knew a couple of messengers who rode them all-year round and they help up well.
i just realised he is from m'lady's adopted hometown as well.
It's so rad! way too big for me but I'm going round to check it out this weekend.
seriously if any of you NZ guys can check it out with a tape mesuare and get back to me on it's exact size i would be keen, esspecially if some one wants the parts im really just after the frame and fork
Boom nacnuds a good guy im sure you guys could come to a good deal.
It is so ott.
Same.
I want this one though.
got an offer for this for 1000 nzd but im buying a 29er in a week and a bit so cant do it if any one wants it hit him up via trade me
Frame and fork now on Ebay
If only Father Christmas existed

Still at $600 with 14 hours to go.