apparently 12noon or something something
My friend had one of them at his place for NYE.
Things happen as they do, and he ended up curled up inside it at 2pm the next day, asleep.
Hmm, midday start - gives me little time between sleepin and leaving to clean the bike. Show and Shine this time?
Power meter on rollers is good - won't have to run the powertap wheel, can go disc instead

Yeh yeh yeh cell bikes sale then to the swapmeet!
Doin some hot laps before busting Down to The animal chins to get loaded up for the meet! Having my first weekend day off in years
lts going to be a good day…-
More fun in the sun. Wasn't inspired to buy as I'm in a selling/rationalising phase right now.
Jelly legs tomorrow, thanks rollers. Hope they get dragged out to more events. Actually whoever runs them might be interested in this - I'm cobbling together some lighting/visuals equipment for the smallish DnB parties we put on. Part of it is a bunch of LCD monitors and a distribution system for VGA.
This would be perfect for the roller graphics - a monitor hung either side of tent, and one each in front of riders. Run one cable off the laptops external VGA and you're set, I have the gear to do the rest.
Will be happy to help out with that once it's all done, I'll be in touch if you like the idea.
It was a fun day. Good to see so many bike goons. Thank Yahweh for the beer suppliers (you save me twice). The Thai Mafia crack me up


Buy of the day was G. who spotted a camshaft for his Mini Cooper in the bottom of a box full of chainrings !!! Marley had the kick ass bike of the day … a very custom time trial bike (from WA?) with a 2nd bar/fork set. Sweetest moment was seeing a dad show his son a tubular tire/wheel and explain how it was done "back in the day". I bought nothing … a first for me. Next time I'll be armed to the hilt with just crappy seatposts in 26.2, 26.4 and 26.6mm sizes.
I'm kinda disappointed … all the dudes I met from this forum are/were cool guys. I was hoping some of you were jerks, knobs and assholes. Maybe I carried forward that distinction

Im off to the States today and i couldnt have asked for a better last day in Sydney. thanks to all the people that make this event work time and time again. Zak well done to your brain with the conception of the beer plan, amazing stuff. Teachin you are the man. Stef rippin the mic to shreds with his lyrical genius. thanks Deus for a set of wheels. Lewis you are also a cool person. The thai Mafia an their ability to barter on any and everything, bum bags and all.
Cya when i get back on the underside. till then ride safe.
Lots of Love your McLovin. xo

Was a good meet - not as busy as the last one but managed to sell a lot of spare parts for a fist full of cash and spend some of it on some NOS campag.
Which one were you SanEsteban? Didn't get the chance to meet you. Spirito, sames.
I was near the southeast corner - no tent, just a beach umbrella. Most of my gear was sold by midday. Spirito was in the south west corner.
P.S Spirito, thanks for the gloves - they made my day!

Please post in the sydney people/bikes thread to quash my confusion

I love NOS campy. My latest item is a NOS 26mm ti lock ring for my road group
and on the other topic she owns a fixie now so I will endevor to get her out for a wednesday nite ride…
Was a good day
I have a bunch of photos mostly of our boys on the rollers
I'll try and get em up…
Roller Racing Final @ Deus Swap Meet.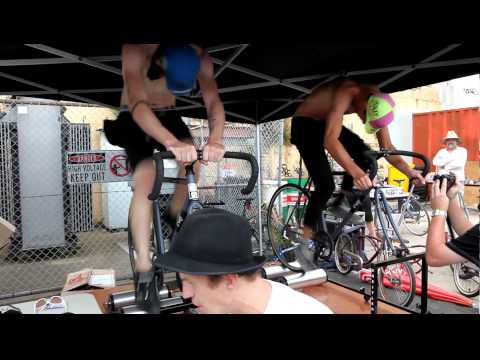 Silly Lewis all you needed was some red meat.
You were clearly deprived of iron towards the end.
Scrap that vegan rubbish

What would you recommend to all the meat eaters that i beat Dr Gypsy?
yeh, sweet day. all that sun and beer left me totally trashed and sleepy for the rest of the afternoon. oddly, that aero helmet did nothing to counteract the beers and give me an advantage on the rollers…
well done mayo, and have fun in the USofA.
I'm glad you dig (and that I finally found hands that fit 'em)

ha! saw those gloves, they are freakin' awesome. If my hands were that big, i woulda swiped 'em.
great day out
anyone know if the black pursuit bike sold? i was very tempted to drop the cash
might have to get in on the roller action next time :evil:
The Hillman? Didn't sell.
Edit: PM user Marley if you sill want it.