yo yo yo!
just moved to melbourne from perth and been riding my giant glory round town, man it is harsh on the roads! :mrgreen:
so seeing alot of fixies and road bikes thought i would join the club! :evil:
so for my first ever road bike! I picked up this shed find covered with house paint on evilbay for 100 bucks.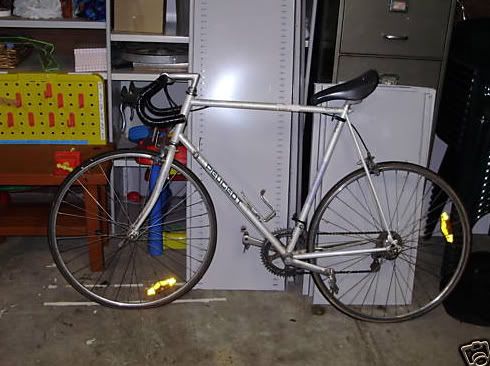 its a Peugeot Tourmalet from the mid eighties not sure on exact spec. but this is what i turned it into!

Specs:
Frame: Peugeot Chromoly
Wheels: STARS panther
Tubes: Vittoria Ultralites
Tires: Vittoria Rubino Blue
Hubs: Quando front & rear
Cranks: Driveline Alloy
Chain Ring Front: Originals 44T
Chain Ring Back: Diamond 16T
Chain: KMC 1/8 blue
Pedals: Wellgo R110
Seat: Tioga Control DH (not pictured)
Brakes: Shimano Exage 400EX
Handlebar: Hsinlung dropbars
Originally i was going to go with the french theme and have the frame powdercoasted white with red seat/stem and handlebars and blue wheels/cranks/chain. which i pretty much went with but threw out the powdercoating idea and plastered it with stickers!