Hey Yall,
Well this is my first post here. So introductions first…Hi. Haha, i'm Ken, I am usually found heavy handedly treating shit boxes at BikeNow in Sth Melbs. I also run www.xxiv.com.au and import a bunch of brands through that with Llewroy for those that know him. They are all dirt jump, street, downhill prods though, have a look on the site to check them out.
Anywhoos now thats done. I stacked my commuter track bike hadcore 2 weeks ago. In a word, fucked. Well all my parts seem ok, but my frame is pushed in at the front end. It looks like a Santa Cruz Farleigh now.
R.I.P.
I started to look at my options for new frames in the last week. I have to say I am growing extremely fond of: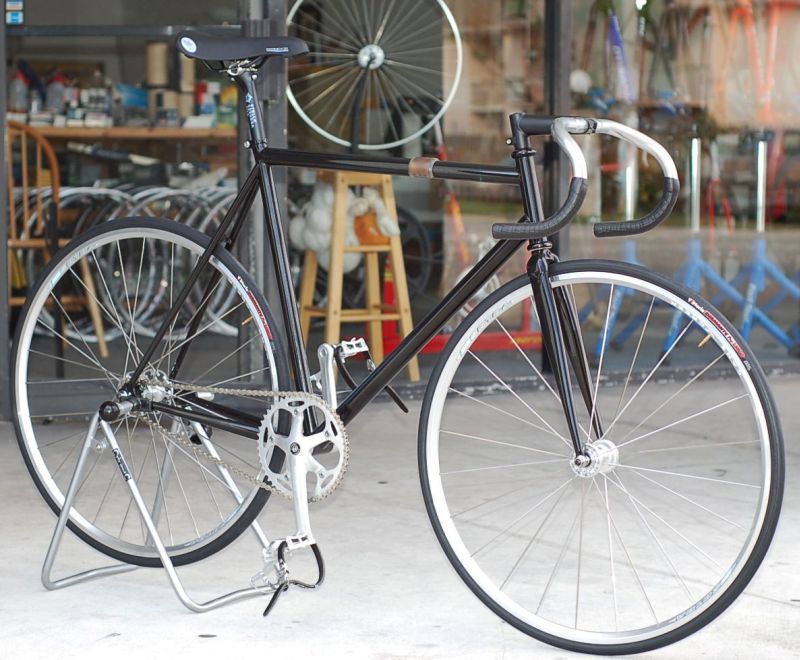 More details: BUSINESS CYCLES: Track Racing Bicycles and Frames: Dedacciai Cromoly Track and Fixed-Gear Road Frame: Nessuno (EAI "Bareknuckle")
Known as the EuroAsia Bareknuckle (in US as 'Nessuno'). I think its a hell of a sexy bike! New school, really clean and well defined. I love how simple it is, yet it still has a few nice touches to set it off. Plus the no decals thing will work well for the theiving type, or I will probably just sticker it up with my other brands

.
Has anyone in Oz got one, seen it in the flesh…pref ridden one? I am pretty easy re: geo for this type of frame, I just ride the fucker fast from point A to B. But good to get an idea of what it might be like.
So it comes in at $600 AUD, plus freight etc. I will be getting it from http://www.hubjub.co.uk/. Unless someone knows a supplier in Oz? If i get it from HubJub I will get it with a 24Seven order for XXIV to cut down on freight, so if anyone else might be interested in one or something else from HubJub let me know and we could do a good deal on freight.
For anyone that is interested here are my other bikes. A Dobermann Pinscher jump bike with 24s and my DH bike which is in progress, a Banshee Chaparral with all the trick bits

.
Banshee Chap: http://forums.farkin.net/showthread.php?t=68892
Dobermann Pinscher: http://forums.farkin.net/showthread.php?t=68892
Cheers,
Ken