Hi there this thread is all about the first fixie that I built, hope you enjoy the read. This was really a great learning experience for me.
I am a MTB'er first and use my road bike for training and commuting however I have been itching to get a fixie built, hopefully once I get used to it I can start using it to commute.
Here are the latest pics:
Latest pics: 21/05/09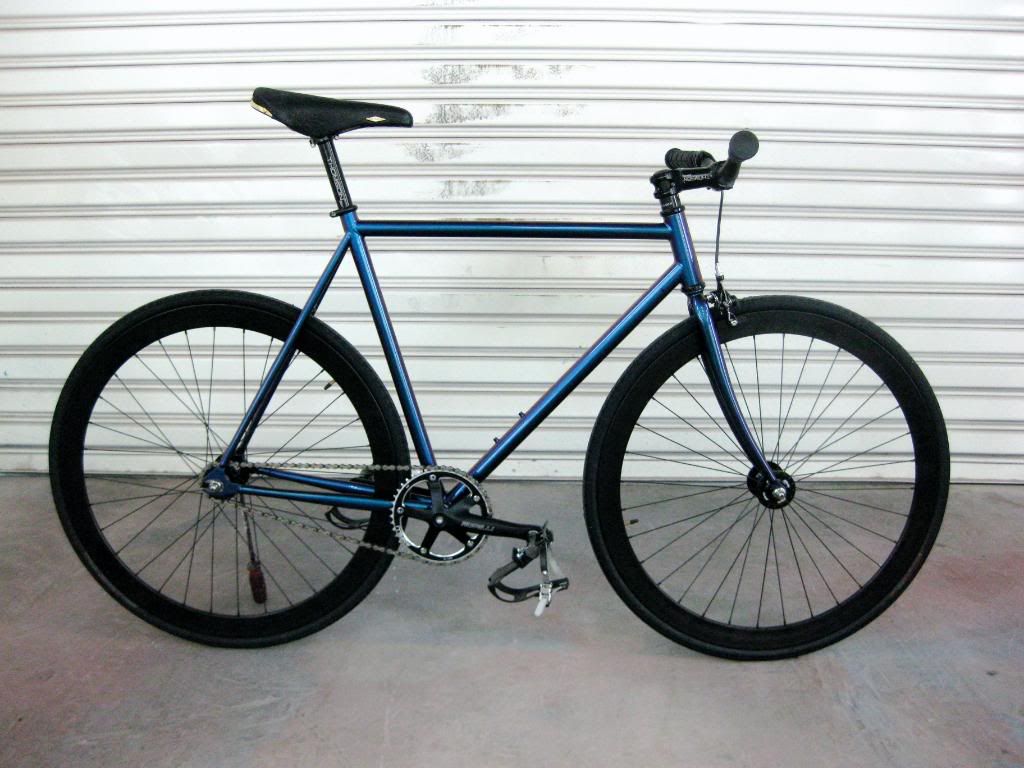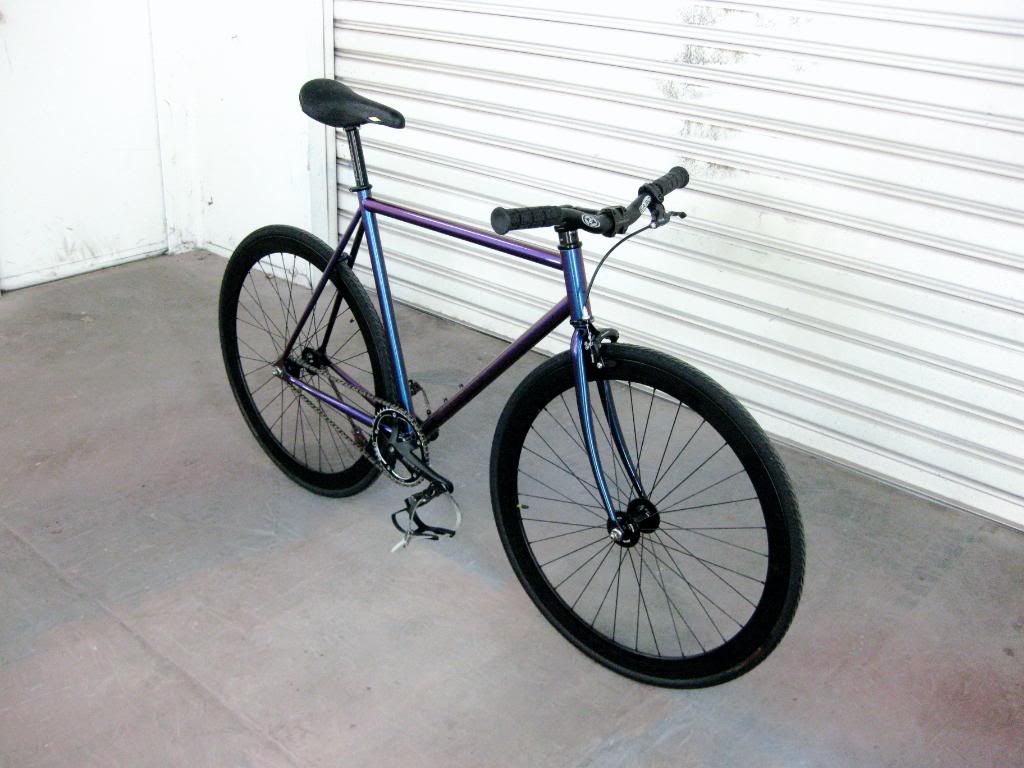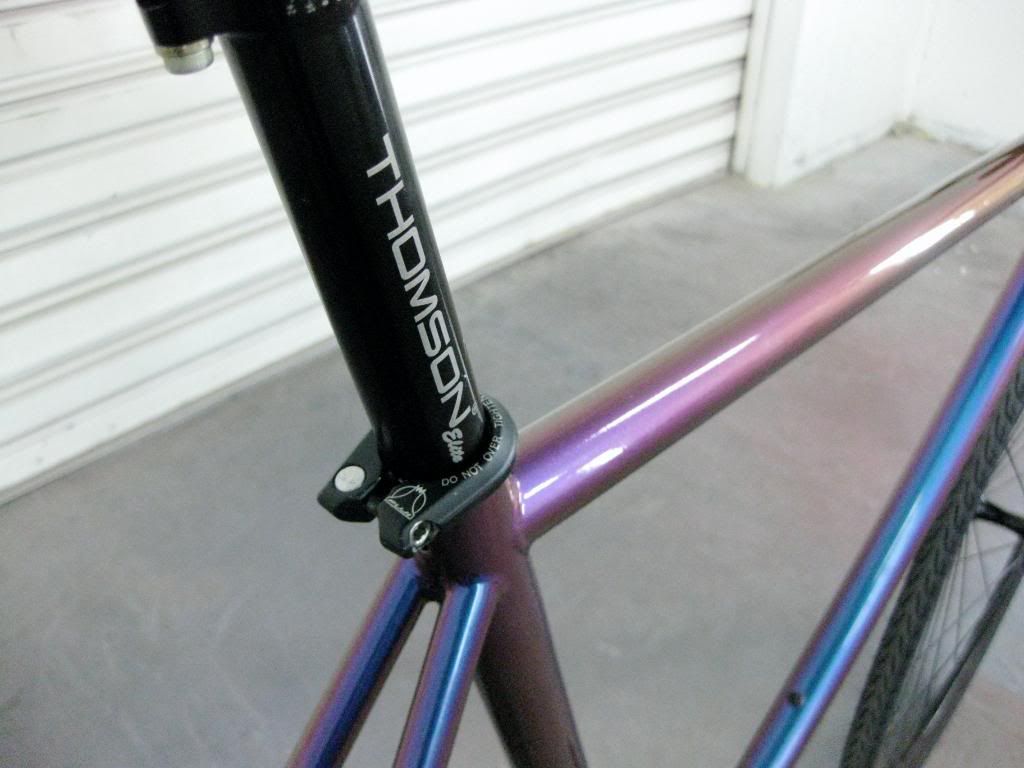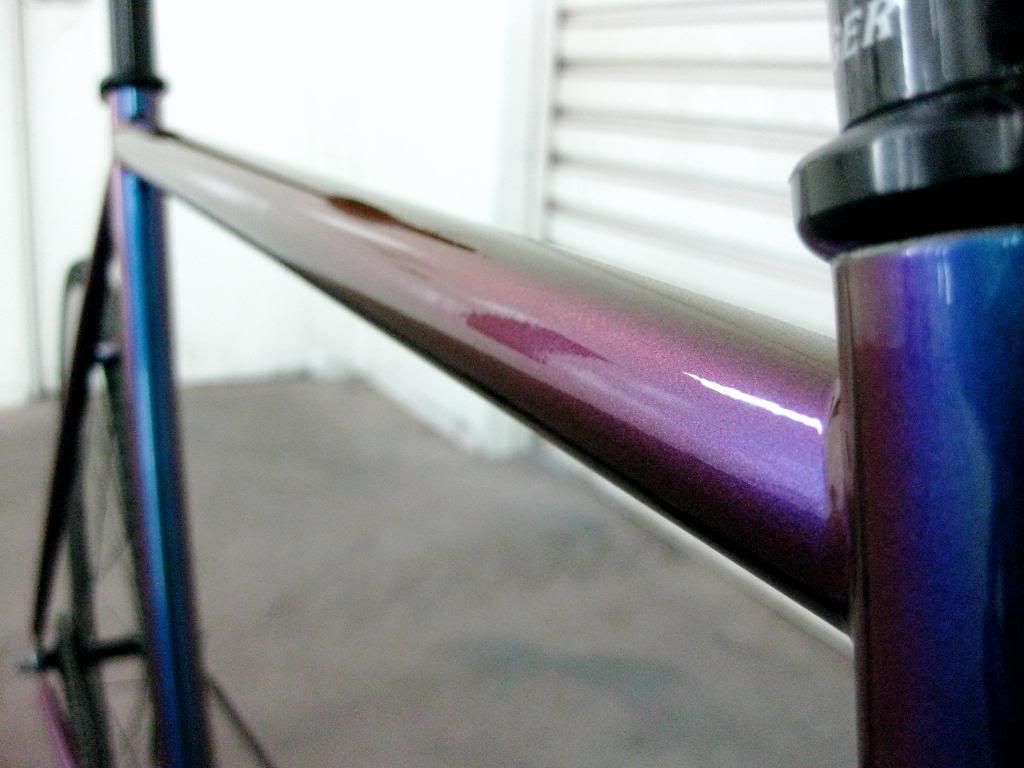 Latest Specs:
Frame/fork: Fuji track frame - medium - custom paintjob in harlequin (purple/blue/green)
Headset: Bontrager
Rims: Velocity B43 black
Hubs: Velocity track
Crankset: Roselli track 44t
Pedals: MKS GX-9 black
Clips: Black Nylon Large
Tyres: Vittoria Randonner 700/28
Seatpost: Thomson Elite 27.2mm
Seat: San Marco Rolls
Cog: Roselli 17t
Stem: Thomson X4 31.8mm 100mm 10 degree
Bars: Easton EA30
Grips: Oury Black
This is a long story as this bike has evolved quite a bit since it's conception, but I hope you enjoy the story anyway… It starts here…:
The story begins here:
The full story can be read at Bikes move us >> http://www.bikesmoveus.com.au/showthread.php?t=473
30/01/09
Well i have gone and done it now, i have officially started my fixie project… it appears I have sourced a suitable vintage road frame (I have a choice of a couple) for this task. Unfortunately it is not in my hands yet or do I have a photo to share, but it will look something like this (image courtesy of MS paint)…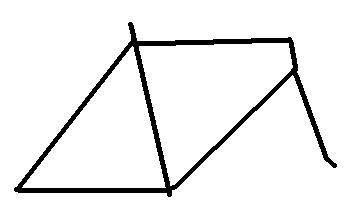 The first thing I wanted to get right was the wheels and thanks to some suggestions on another thread (here), I have settled on a set of deep V Velocity track wheels.
I spoke to my LBS and they have secured a set of white rims, I wouldn't normally buy the rims before the frame but they are new, slightly marked but greatly reduced in price… they will be white with black spokes and black velocity hubs… and will look something like this…
And for all you fixie entusisasts, yes they are machined because this is my first fixie and I do want to be around to see my kids grow up… I will run a front brake.
I will probably go straight bars, with a bmx style brake lever.
I have a few ideas on a colour scheme for the frame, but I might just build it up and repaint it in a couple of months time… that way i can paint over all the scratches from my crashing.
Anyway here we go.
this is what I am thinking about this afternoon regarding colour scheme, i am sure it will change over the weekend. the wheels are locked in white…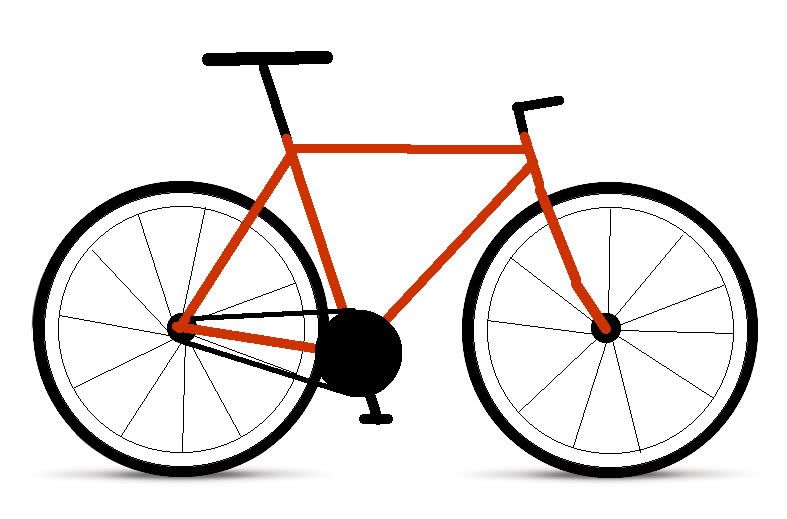 BTW - the red will be aussie post red
01/02/09
OK, went to my sisters place for dinner and there was a council clean-up going on in her area and I picked up this repco superlite. Frame is in good nick and is on the table as a candidate for this project, also I might also be able to salvage the front brake and a few other bits…
The size of the bike is a bitter smaller and lighter than the oxford frame I have but might suit me better, anybody got any opinions on the superlite?
The frame is lugged which is a great option for fixies, both look and steel strength.
I would need to grind out the driver side dropout, but other than that there is sufficient movement for tightening chain.
This is how she looks stripped.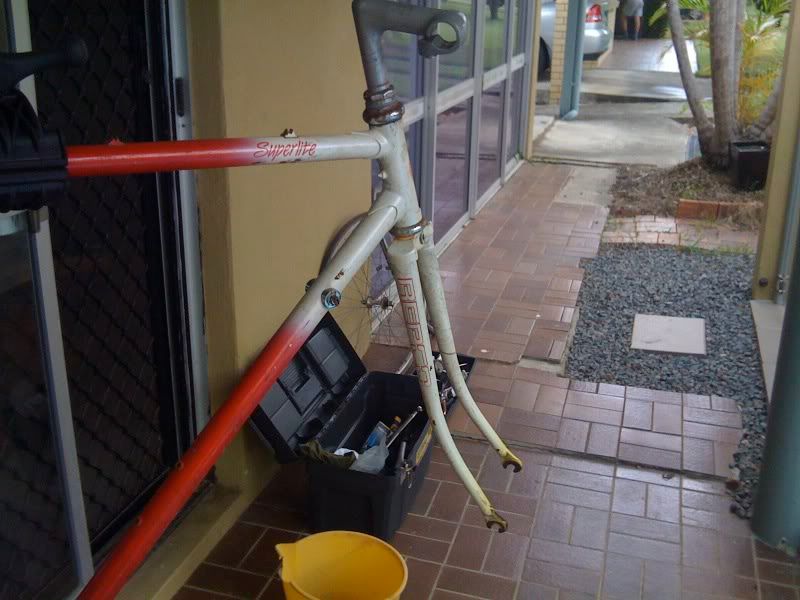 05/02/09
I visited a fixie freak that I know and together we have chosen to use the Repco superlight… so I spent the last few nights stripping it, grinding off all the tabs etc and getting it ready for painting. I have decided on a candy red pearl which looks hot especially in natural light… if you want a reference colour, if anyone has seen the movie "cars" when lightning mcqueen gets the custom cruisin paintjob and he comes out in a metallic red job??? anyone??? anyway you should get some idea from these pics hanging in the paint booth. The painter took it outside for me and she comes to life in the light… looks pretty ordinary under the fluro lights of the paint booth although you can just see the pearl coming through in the fork picture.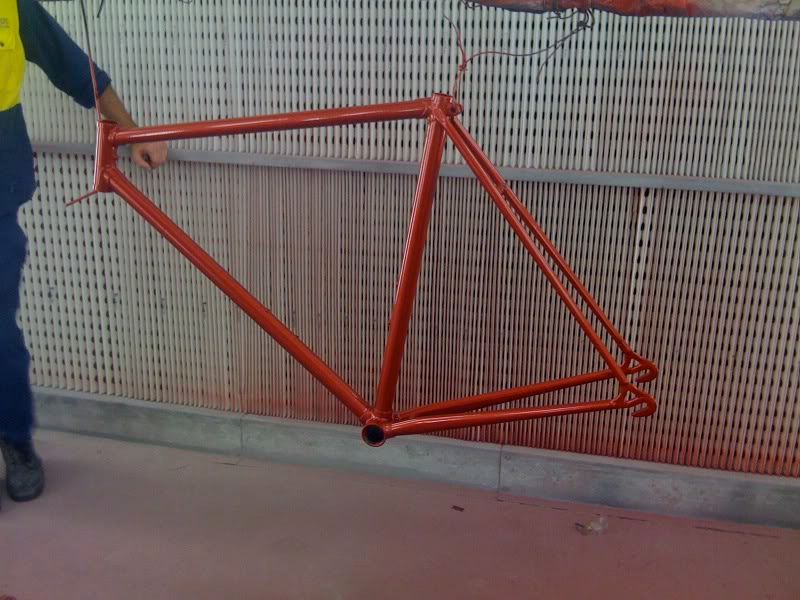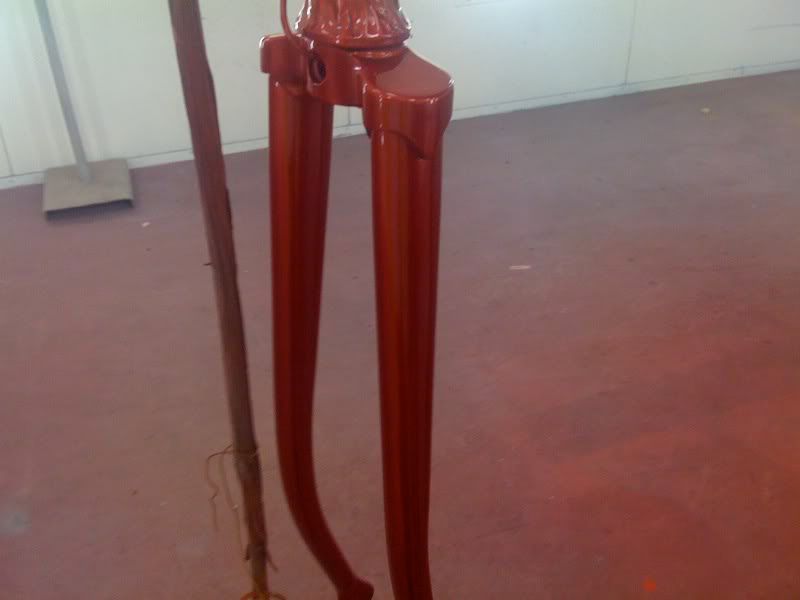 Also received some bars today, still not sure whether I will go with these or not, it was an ebay impulse buy after a few too many sarsparellas…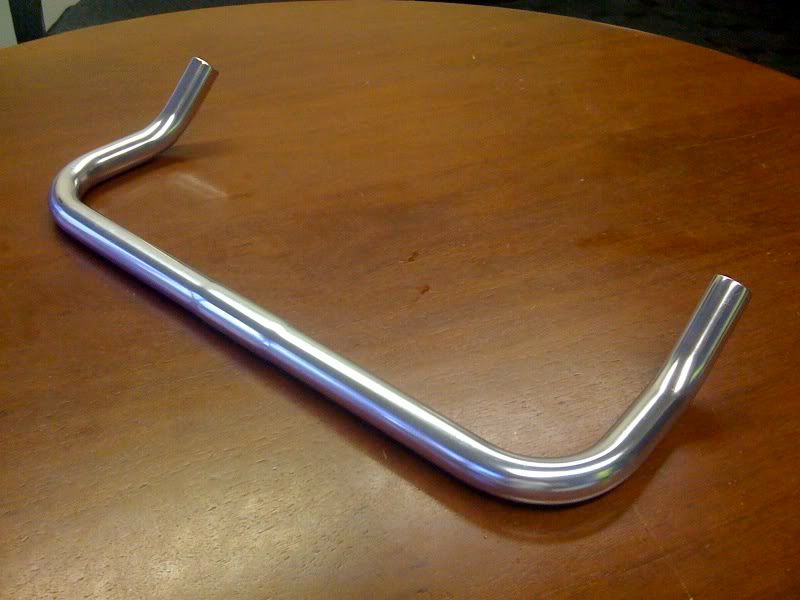 06/02/09
Well the contol room of my fixie project took a turn this afternoon. I visited my LBS this afternoon and Andy from 99 bikes at Underwood and I were talking about the fixie and how I wasn't too happy with the sarsparilla unduced rhino bar purchase and he told me that was a converted available to convert my step from quill type to A type… woohoo that was all I needed to hear to I could stick to my original flat bar plan…
Anyway turns out that he has just removed a stem, flat bar and seat from his new Scott Scale and he offered the three to me for $30 cash… couldn't knock that back now could I? So here they are: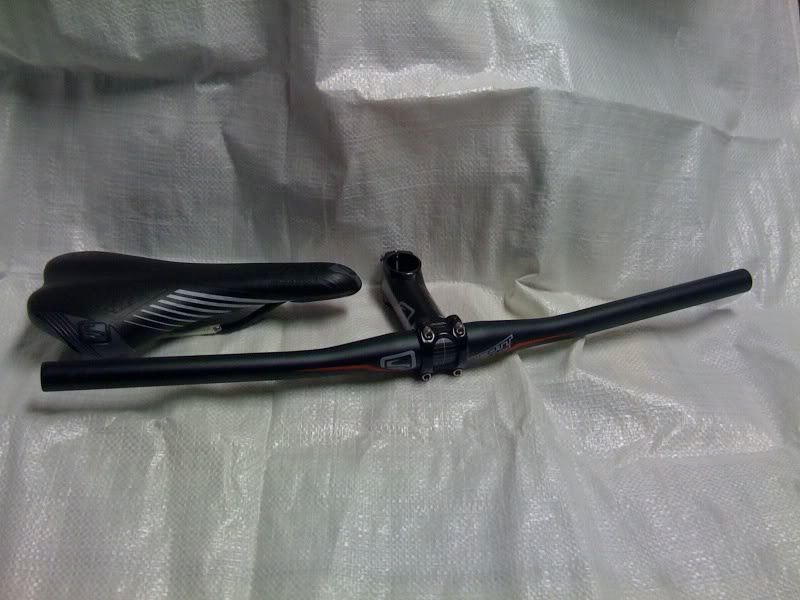 These are Scott Branded and good quality, so I am stoked!!
With those changes made, I also purchased additional goods:
Oury lockon black grips
Brake lever
Odyssey brake cable
Stem quill converter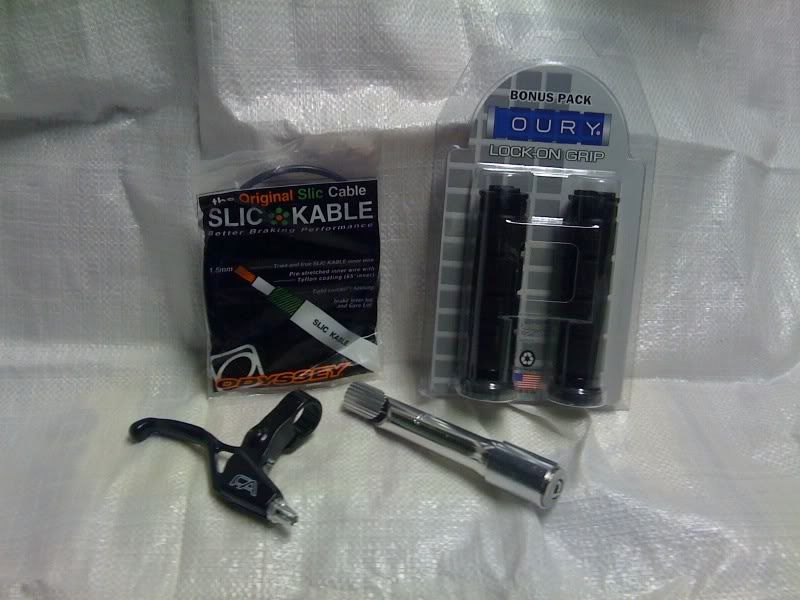 Funny story about the frame today, I went down and to our production paint dept today as they are painting the frame for nics, and it turns out that the production manager has rejected the final paint quality from the painters as he didn't like the finish where the brake cable guides were grinded off… he told them to fix it and do the job again. Ha Ha… will get it on Monday
Got a call from my mate who owns Sonic Cycles in Slacks Creek and my track wheels have arrived, he says they look very hot!, I will pop in tomorrow and have a look. I will pay for them and pick them up on Tuesday as he is waiting for the fixed rear cog to come in from back order
11/02/09
The frame is painted and she looks hot… I can't wait to start putting it together. I am really happy with my "lightning mcqueen"

pearl candy apples red colour choice.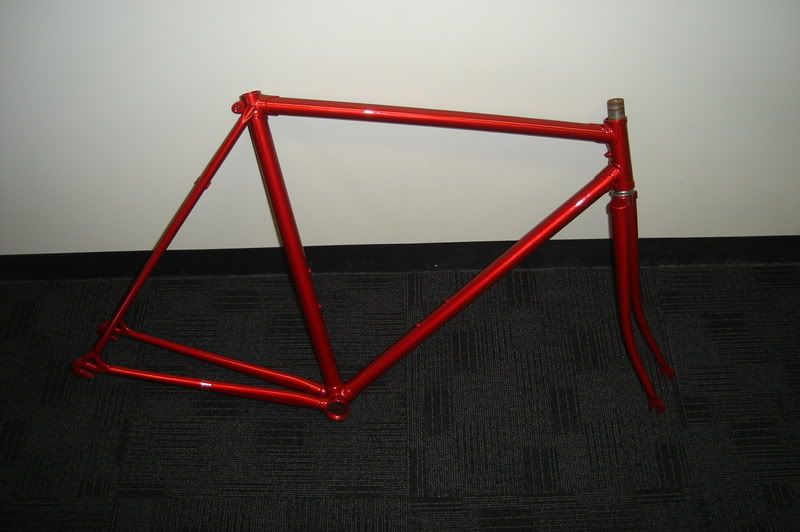 After grinding off the lugs and painting over, it looks so clean.
Looks like I need to clean the bottom bracket threads out a little before I try installing as there is paint in the threads.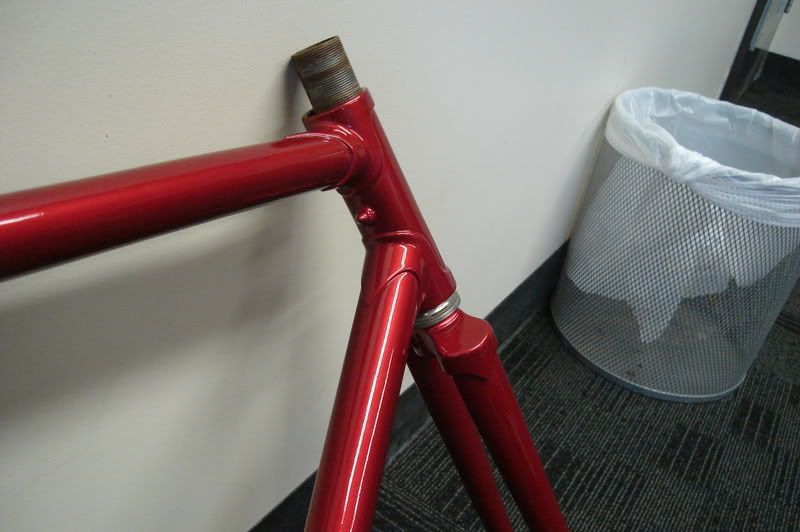 I had to really ask myself about whether i was doing the right thing doing up a bike that I found on the side of the road, after much though and after seeing the frame the way it looks today the answer is a resounding yes…
You see, the kero of about 2 years ago would have walked into a shop and bought a brand new fixie off the shelf and walked out none the wiser. Probably also spent less money too… however, when it broke down or needed a service then I would be off to the LBS for the basis of service.
What I have learnt by building my own bikes (MTB, bmx, DJ) is how they are put together, how to tweak them and how to repair them. Perhaps in the long run I save money cos I don't need to pay LBS maintenance as much???
To me, finding a semi reasonable bike on the side of the road that turns out like this is also a great story to tell your friends and something to be really proud of. And even if the frame fails, what is the harm??? All the parts can be transferred to another frame easily enough… I am fortunate that paint jobs like this I can get for free so no real loss putting effort into it.
Anyway until next update, thanks for reading. andrew kero
13/02/09
Well I picked up my wheels today - wooah these baby are dead sexy, got some nice bontrager triple something or rather tyres (I will give you the proper spec later)…
so here's the thing, I am taking my mrs out on a romantic dinner tonight so I have done the right thing and only spent 5 mins putting the bike together to show what it is looking like.
the rear dropouts will need to filed out a bit cos the paint is preventing the wheel from going in… and for the obvservant, no i haven't fitted the headset yet cos it needs a cleanout.
I will get around to doing this over the weekend…
here it is so far…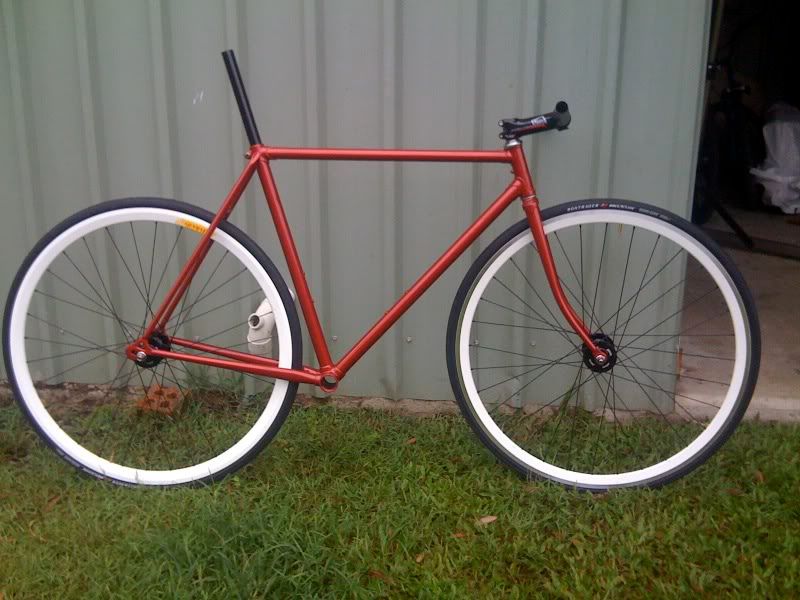 gotta go and spruce myself up, until later…
15/02/09
Spent a few hours putting a few things together yesterday and it is starting to come along.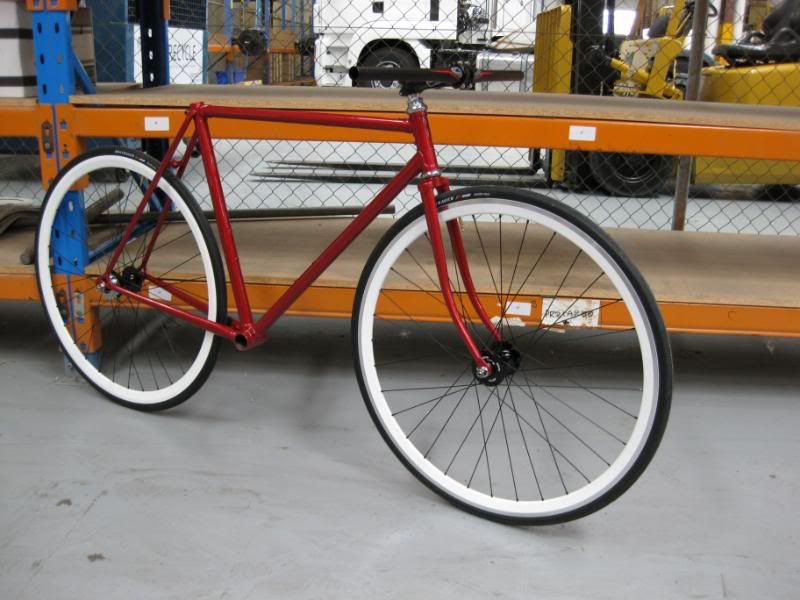 Installed the headset, stem and bars. i will cut the bars down once I get it rolling and can find a comfortable width. I am not going to do the courier trendy thing and make them ultra short…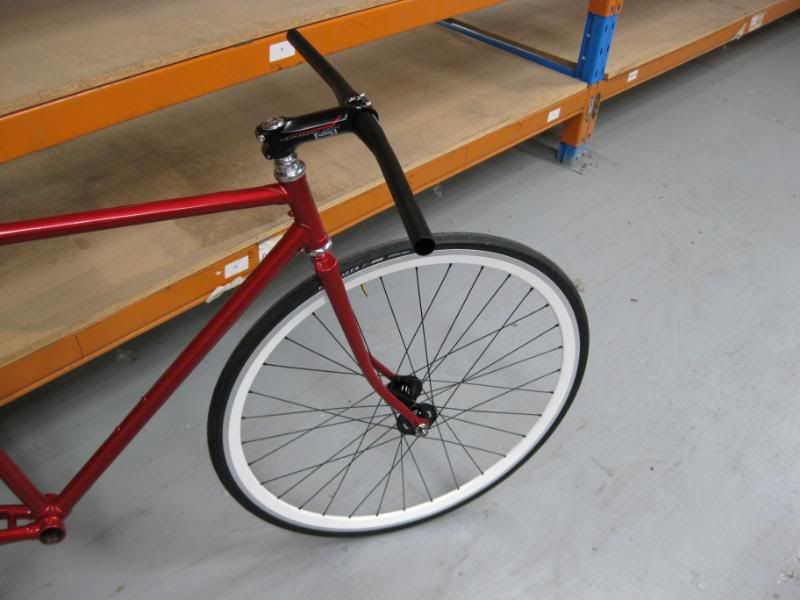 also fitted an 18t freewheel, waiting for the 18t fixed cog to come in. I have ordered a 48t front track crankset.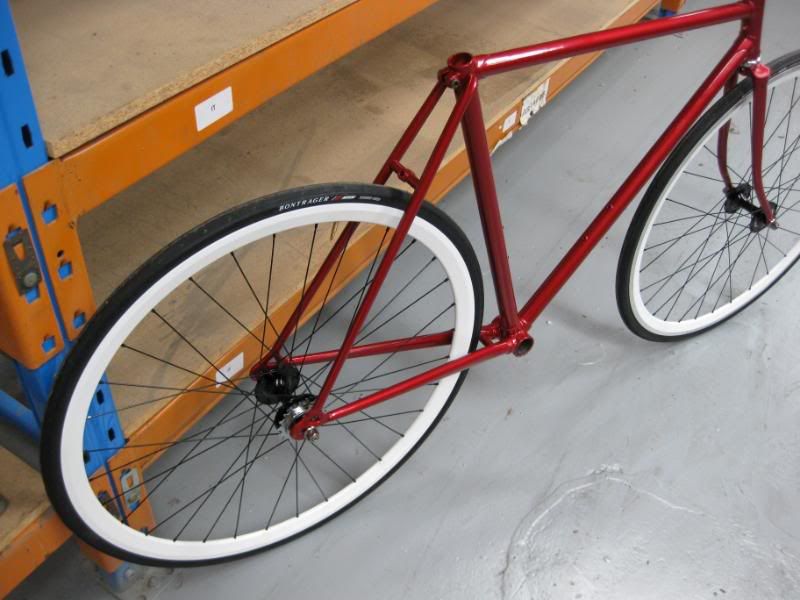 I know I still have the crankset to install, but this baby feels nice and light, with all parts scheduled to arrive this week should be up and running by the end of the week (hopefully)…
Here is another closeup of the paintjob…