Spotted this shirt yesterday.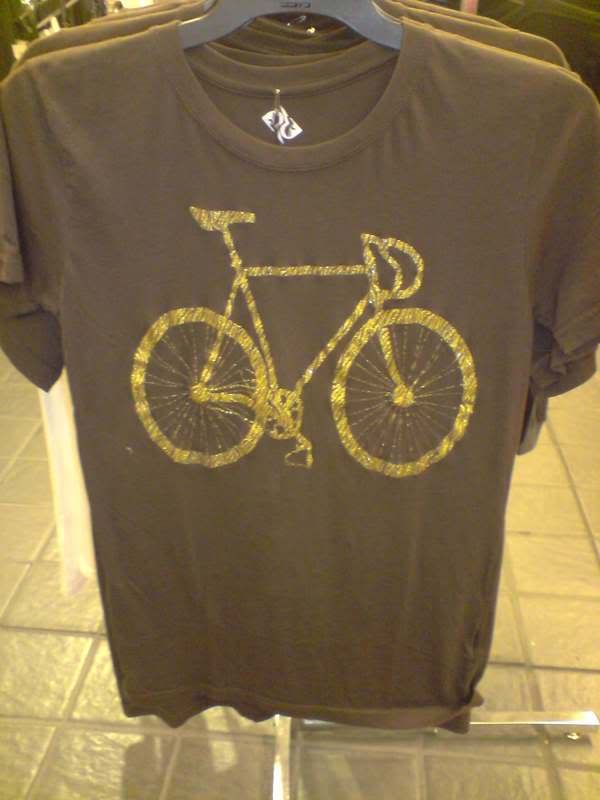 Also spotted this SHITyesterday.
Even my wife had a chuckle.
Hey isn't this the Industrie t-shirt I complained a couple of weeks a go at Chadstone?
&
Fixed has jumped the shark as much as jumping the shark as jumped the shark.

yawn.
my subculture is cooler than your subculture because mine isn't abused to sell shit.
For some reason seeing Stussy do fixed gear stuff doesn't bother me as much as some random clothing brand printing a crappy silhouette of a track bike on a shirt.
And at least that Stussy shirt is to do with a Japanese bike shop (Carnival).
I don't know, I just like riding my bike.
Hell, you could even say I've jumped on the bandwagon. I've only been riding for a year, yet own three track bikes (and spend all my spare $$$ on fixed stuff, including fixed-specific shoes etc).
Sorry but I really do have to ask, what are 'fixed-specific shoes', and what makes them so specific that other 'normal' shoes can't or won't do?
Fixed has jumped the shark as much as jumping the shark as jumped the shark.
The sooner the 'scene' is force-fed with cheap imitation fixed gear culture, to the point of bursting, the sooner they can move on to unicycles or playing guitar or chiptunes or what have you, and the sooner the purists with their noses out of joint can have their scene back. Rock the matching stock top tube cover and saddle, the keffiyeh, the spoke card exchange program. Crash through or crash. $0.02

Is anyone still surprised of popular culture's appropriation (and subsequent devouring) of things that used to be "fringe" i.e. fixed-gear bikes?
typically harder soles, so that they don't bend so much under your weight when you ride with toestraps. most cleated shoes are the same, generally with a hard sole to better performance, as long as you can stand shoes with hard soles
Most of the 'fixed' shoes I've seen by Vans, adidas etc are hardsoles
personally I ride in volley/volley type shoes with soft soles, it's a personal choice, different people prefer different things

jumping the shark has jumped the shark, now that it's become mainstream. all the hipsters know that you're cooler if you stick with the thing, and then bitch about how you're an OG to anyone who'll listen.
but i mean i joined this forum 2 1/2 years ago, and there were magazine spreads about fixed gear back then as well. most people get used to it. i look forward to the day, sometime in the near future, when random people on the street don't even care about my weird bike bike with no gears, and big w sells huffy track bikes with risers and coaster brakes
Get with the times christof! :lol:
Haven't you heard of the 'fixed specific uniform'?

Anyway, these are my dream 'fixed specific shoe':
Beat a vans anyday…
+1 Can't wait :mrgreen:
Anyway, these are my dream 'fixed specific shoe':
Beat a vans anyday…
I've got a pair of those Sidis. They're what I use in winter training and they are amazing. Dry warm feet anyone?
Chiptunes? Wicked, I'll pull my Amiga out of the garage and sell it for thousands on eBay :roll:
(I will NEVER sell my Amiga!!!)
They're cheaper than Sidi Ergo's cause they don't have a carbon sole. Amazing if you do a lot of riding in winter.
here's a good city shirt - and there's no bike silhouette either

http://www.threadless.com/product/1667/Pigeons_Are_Rats_With_Wings
Nor will I…