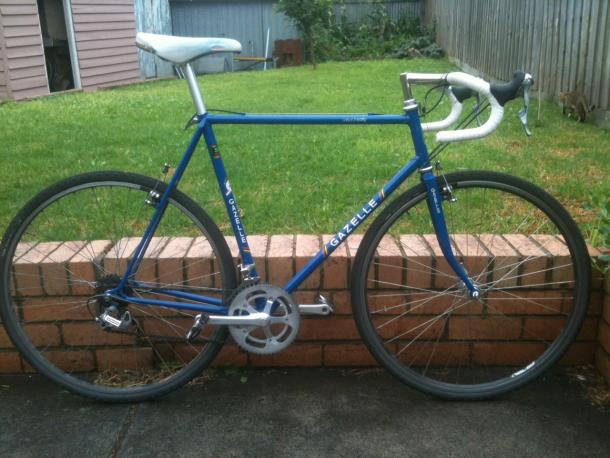 Got this of Andy White a week or so ago.
Gazelle CX Frame
DuraAce Stuff
Always loved the look of that build. The Dutchies know how to build nice frames.
Nice one Jimmy, Could have sworn that'd be too small for you though! Maybe my eyes deceive me haha
Really nice build none-the-less
it's alright sime.
i thought it might have been too, but it feels good, plus kinda like it a bit on the smaller for when i do actually do cx rides.
looking for a bit bigger road frame too.
(anything is better than a 55sp with a foot of seat post)
Let's go and get that white bartape grubby on the trails soon!
man so jelous, 4 weeks + no work last month has set me back a shit load on getting a cx bike up and runnning
looks sweet
i can assist in the dirtying of said bike…

i will need guidance…just ease me into it is all i ask.
dont worry jimmy, mud is a natural lubricant
I similarly can aid in the destruction of your drivetrain due to grit, grime and general smashing off of things.
Thats a really nice bike, I love the look. I would put a set of VO front racks on there but thats just me
What's this recent obsession with front racks all about? In all seriousness what do you use them for since they are quick small. In all the builds I've seen the racks are usually empty, or have a token 6-pack of beer or something. Are we kidding ourselves here?
I use mine for supporting my handlebar bag, in the manner of this:
only not quite as classy. I don't think I'm kidding myself. My bag holds a sixpack and a couple of tallies quite nicely.
i live just far enough away fromthe shops to make it an annoying walk and dont have a car or a licence, front rack means stuff like bread dont get crushed in my back pack and i dont have bags hanging off my handle bars swinging into my front wheel as i ride
I always ride between houses, drunk or getting drunk, and if I had a front rack I wouldn't have warm cans when I arrive.
because we can
+1 on the nice gazelle.
i was wandering why andy was rolling around on carbon