Hi All,
Just wanted to quickly introduce myself and the couple of bikes I have had since I have started riding fixed. I have ridden bikes a lot when I was younger, but only BMX or Mountain bike. A friend introduced me to SS & fixed bikes when I wanted to start riding again for fun and fitness.
I first purchased an SE Draft Lite, as I only had a small budget at the time and couldn't afford to build a bike like I wanted to. The SE was fine whilst riding SS, but after changing out most of the parts and changing it to fixed, the bike started to show it's weak points and I couldn't get it riding nicely, no matter how much I was spending on it. It is now a SS again and is my Fiance's daily.
Here it is pretty much how I bought it…


And this is it now…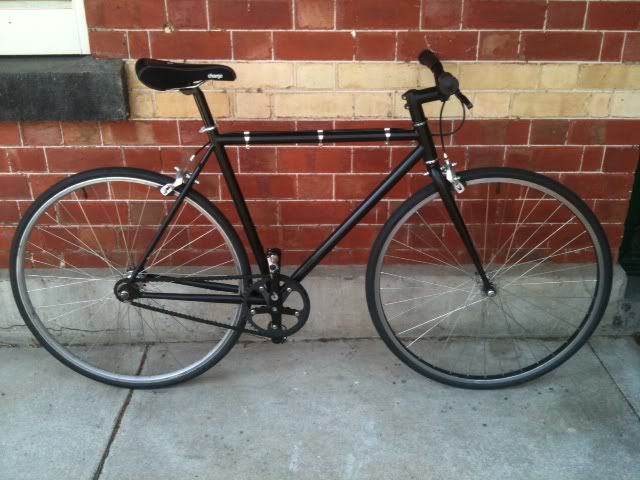 After wasting a lot of time and money on the SE and not really getting to ride it, I found a second hand Charge Plug that was practically brand new, for what I think was a bargain($500). The bike rides great and all I have done to it so far, is changed the grips and seat, got rid of the painted half link chain that was noisey and not smooth and put on MKS pedals and clips. It is nice to have a bike that I can just ride now and not have to worry about it, but I will slowly change parts when I can afford too. I will hopefully come out to some Wednesday night rides soon.
Here is the bike before I put new grips, pedals and chain on…

Any criticism or suggestions welcome.