Very sad …
I was just collecting photos off the net to start this very thread.
I was luck enough to be at some surf presentations and events,
The man was a huge inspiration to me and most of my freinds and family,
He was my dads surf idol and my surf idol.
Kelly slater once was asked what is it like to be the greatest surfer ever,
He replied "Im not MP is and always will be"
He won every contest he entered in 77, multiple bells, stubie pro's, pa bendals, and was one of the first to concor back door pipe.
I have slow mo'd the shit out of that cutback in morning of the earth to death and will do it another 1000 times before my light goes out,
MP had some great stories including high's low's even car chases televised live through Brisbane
He will be greatly missed.
My old man used to surf with him before his life got to crazy. His autobiography is a good read, amazing stories.
I worked at Goodtime Surfboards when i was younger, My old boy worked there when he was 14,
This is where MP learnt to shape properly and he was sponsored and shaped his own boards there.
The shed where he spent a lot of his days is still there and i love to hang out in it,
While i worked there i was luck enough to get an original Fruitbowl decal framed that i found in a drawer out the back.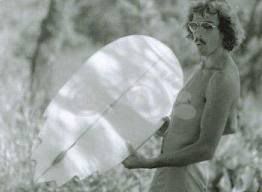 Guess most of you would've read the bio MP? It's one of the best books about surfing I've read- surprisingly. Also I seem to be one of the few who felt let down by The Life
will borrow from you… plus ill lend you the 2 allan weisbecker books.
In Search of Captain Zero… a funny book to read when you are in Costa Rica. The "fucking boat debacle" is an amazing story within the book.