The mark has been set high by Ross's bike!
Yer I want a shirt that says 'Ive made it on BikeSnobNYC'
I can just see a whole new wave of people desperately trying to build ugly bikes in order to also gain this prestige. On a sad note, the BB is wrecked on it and I think Im almost too big for the frame now, I might have to swap the parts onto another similar frame I have lying around. Rest assured an equally mismatched and bright paintjob will follow. (pink wheels included)

Haha!!
I'll look forward to seeing it.
Don't listen to anyone in regards to aesthetic discussions of bikes; if you like it that's all that matters.
Gravedig! :lol:
Im going to search for some more pics of this bike in various stages of paint today, I know I probably didn't get pics of more than half, but oh well. This is what it looked like well over a year ago in OG status, I see I was a lot more positive back then

More pics to come.
Ok, this must have been around Melburn Roobaix 2007…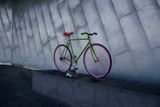 Im missing a whole heap of pics from when I tried blue/orange blue/yellow purple/yellow and hated them all, so I went back to green

I can't remember much in this period except it had stripes once…sometime this year I came up with my favourite paintjob, painted the whole frameset with different coloured drips, it looked awesome for about 3 weeks then it faded and looked like a big blurry mess

It was fluro for quite a while, the pink and the yellow were absurdly bright, anyone who saw it when it was first painted knows what Im talking about. My camera could never pick up the real colour of it.

After that I painted it grey last week, that looked trash so I repainted it last night.
No brakes? no straps?
The orginal colourway reminded me of this…
I swap between clipless and flats most of the time, as you can see Ive been riding it like that for plenty long enough to know if it works or not, and Im still alive.
Heres the pics of my new paint, this took all of 1/2 a can of paint and a paperclip to do, the pics are not an accurate reflection of what it actually looks like, but you get an idea. Also thanks to shortsie for the stickers! Fixed.org.au seatpost is sweet.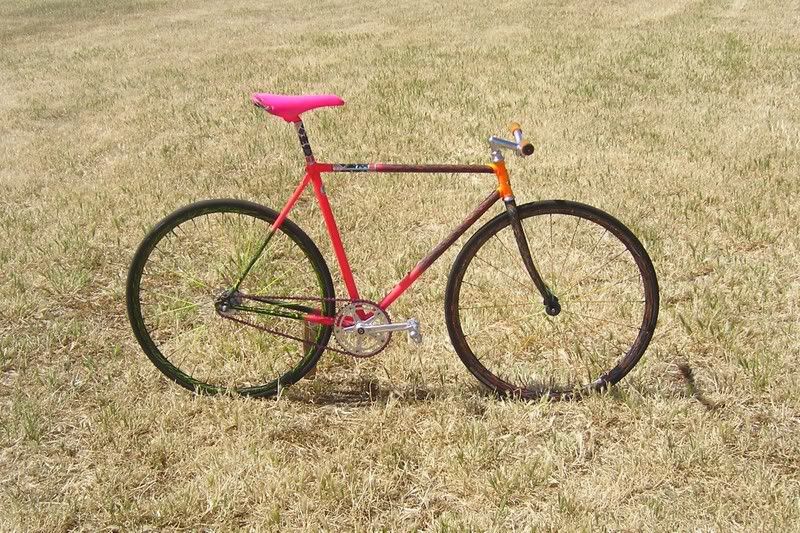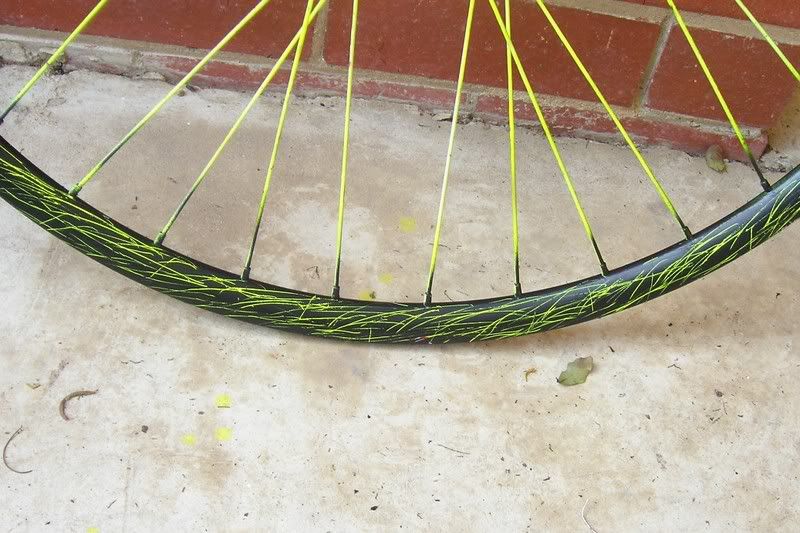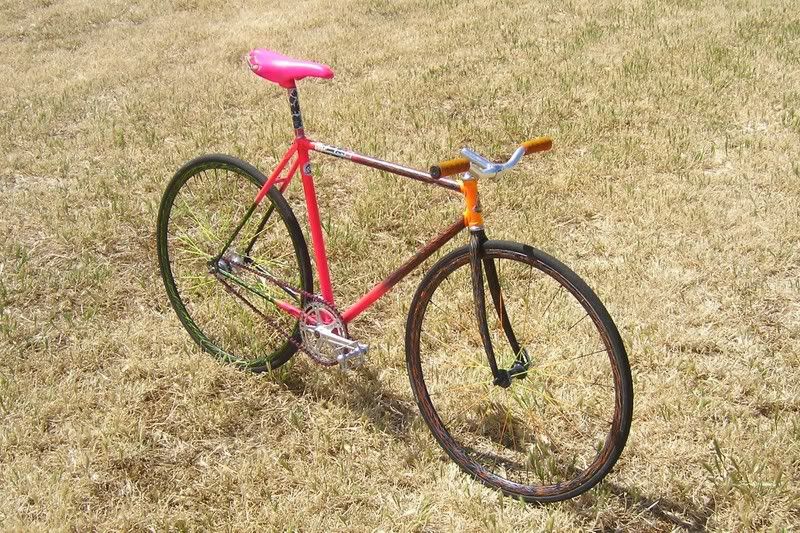 graphic designer- can you make us some fixed.org.au t-shirts? Seriously, anyone we need some. I've got some ideas on the design but don't know any cheap t-shirt printers. :roll:
Sorry for the thread hijack.
PM'd.
And using colourway comes from my "sneaker" days.

Yep, when talking about shoes I will use the term 'colourway. For bikes I use 'paintjob' and for paint on a wall I use 'fill'
[quote="JKL "]
i made one a week or two ago, i think it accurately sums up the theme of this forum in general. and it has a pun, which i know exudes professionalism

how do you ride it brakeless with flat pedals? why not use clips and straps aswell? :?
That's a VERY good question.
Ask Damoh, hes seen how I stop it at a bit of speed

I mix it up between clipless and flats, serious rides/alleycats=clipless, just cruising around or getting from point A to be=flats.
I find clips and straps annoying, because I wear a lot of different types of shoes (steel caps, sneakers, thongs etc) and they are mostly incompatible.
Ive been riding it with flats on and off for about a year and a half, I don't really have any issues as I live in the flat western suburbs and there is no hills to worry about, I can skid it very easily (although nitto stem sometimes stabs my balls) and its just what Im used to I guess. The bike has never had brakes, and I used to always ride brakeless BMX so really no issues.
you ride with thongs :?
seems ridiculous to ride with flats…