Sadly, I have to part with my Lennie, what do you think it's worth?
I had mild intentions of restoring it, but the bike is in very good genuine, original condition, I never had the heart to destroy the patina. The bike is clean, spray polished, lubed and fully operational. The tubs are not safe to ride on though (could be re-glued if you want to use them - they hold air and the tread is brand new)
I'm just not riding it as much as I'd hoped (mixed brevets, l'eroica style retro rides - Brisbane is not really flush with these kinds of rides like the US is), this bike really needs to go to someone who will ride it to it's full capacity. Yes, it is in great original condition, some may think that's grounds to make it an ornament - but honestly, that would be wasting such a fine machine.
I must stress - this is in very good, original condition from the original 70's build, the ONLY thing that deviates from this status is the bartape, fitted a few months back for a show n shine (couldn't find cotton tape at short notice)
Perfect L'eroica bike!
So where to start. As common of the day, there was never a full groupset, people and shops chose the best components of the day (or their budget) and built from there. This bike reflects that.
Frame is steel. Probably didn't need to say it. Zeus tips. 58.5 top tube, 62cm seat tube. Metallic blue paintjob, metallic silver headtube. No braze ons, except for rear derailleur cable lug on chainstay. Fender lugs on tips.
Brake calipers and levers are 1st generation B-210/BA-100 Dura Ace. The hoods have disintegrated, but still original. I have put new bartape on, white Bike Ribbon microfibre.
Front derailleur is Suntour Superbe FD-1500.
Rear derailleur is Suntour Superbe RD-2100
Downtube shifters are Suntour Cyclone LD-1600 friction.
Cranks are Specialites TA Professional 3 arm.
Pedals are Barelli Supreme FULL ALLOY version.
Freewheel is Shimano 6spd 13-23
Hubs are Dura Ace H-731/H-831 first generation high flange 36H. Smooth. Original skewers and locknuts.
Spokes are 14g stainless steel straight gauge round.
Rims are Fiamme Red Label box section tubular, 36H.
Tyres are Continental Giro tubular - still hold air! Not safe for riding - tubs can be rolled off by hand (old glue)
Seatpost is Campagnolo 3800 Gran Sport, Roto frame pinchbolt.
Seat is Selle Italia Turbo, Bernard Hinault model (stamped into sides of the saddle nose)
Stem and bars are 3T
Headset is Campagnolo 1040/A Gran Sport steel.
Pump is Zefal Comp 3.
Spare tub is a Vittoria I had lying about (more form than function though - bit tattered)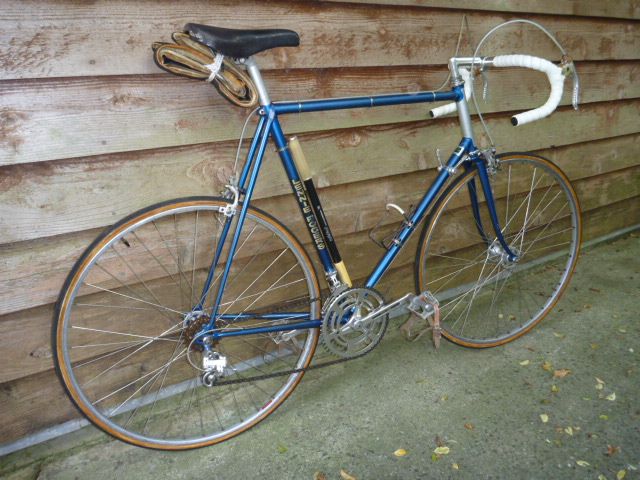 Can post up more images for perusal.