G'day everyone,
We're involved in a 2-page magazine article about fixies, and I'm trying to find who owns this bike…
Fellow Sydney fixie riders, do any of you know who rides this bike? Please let them know we'd really like to have this bike in a photo shoot for a 2-page magazine article. Please PM me or email me @cellbikes.com.au , put "mark" in front of that.
The owner of this bike will get (2) conti tubes, one of our jerseys (if they want), and some arm-warmers and a beanie.
click here for more details : HOTT Bridgestone Anchor Keirin Bike in Sydney! (Who Owns This?)
If any one you think you have a bike just as good, or better, feel free to contact me as well! BTW, you don't need to be in Sydney to submit your pictures, but it does have to be YOUR bike, if we use your pic, you'll get some FREE Stuff (as mentioned above).
Cheers and Thanks,
CELLbikes Mark
More importantly where do they park it without either of teh wheels locked up…
hahaha, yeah, good point!
It is Sydney not NY or melbourne…
what if someone from NYC is visiting and sees that bike! i used to live in NYC and yeah, bike theft is pretty bad, we all used to rock Krypto Fahgeddaboudit Chainlocks as belts and Mini-Evos as buckles, and still pray our bike'd be there when we got back!
problem is, even when people are stealing a bike, most people don't do anything, they just go about their business…try to steal mine or someone's bike that I know, and that person might cop a U-lock upside their head.
is melb really that bad for bike theft? i wouldnt want to leave my bike unlocked in redfern or punchbowl (no offense to anyone living there).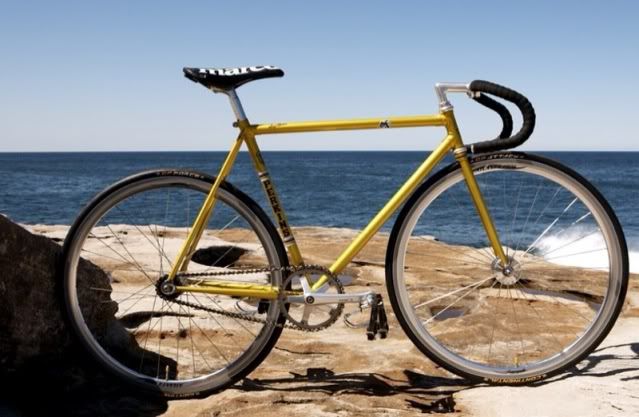 Zak's submission. Thanks mate, check your email.
Does anyone else have a bike they want to show, that may end up in a magazine?
Rusty would love to be in a magazine…!
nexus,
would you like a set of FREE CELL Wheels from me? Rusty is pretty awesome actually. i used to messenger with some really fast riders with beaters, and they were a lot faster than the guys with the bling bikes…maybe they were afraid to crash and scratch them. as for the magazine, i'll show it to them (meeting the journo in 15min actually), but i can't promise anything…
Rusty would love anything new. Haha!
The stem is the only new thing on it and that's a loaner that has to go back.
I have so many regrets about that Perko(namely not owning it!)…
Does my Ken fit the bill?

the ken is hawt!!! nothing rubbish about that loverly track bike!!!
I know him, he works at chat thai in the city. I doubt he would want some tubes and a beanie (no offence) but he'd probably be persuaded by cash monies.
Free tubes are money in the bank fool!
Maybe you hipsters haven't had to change a tube yet but when you have to and you end up forking out $12 for one from your LBS then you'll see things a little differently…
what's a tube? top tube??
lol how you submitted your perkins, maybe they should just do photo shoot with you next to it in your cleats and rapha 3/4 pants

tubes hold the air in your tires…
the rapha paints are way nicer to ride in that a pair of jeans and if you every use cleats you'll know why a lot of people wont ride any thing else…
cleats over everything!!!
sweet! i know someone, who knows someone who works at Chat Thai as well! Small-world! thx much FreckL, for your info, PM me or @cellbikes.com.au w/ 'mark' in the front and I'll get some tubes out to you, for free. If dude wants cash-money, then he'll end up with no tubes, or anything, but hey, what can I do? I'd personally let someone take pics of my bike and give the stuff away to friends who needed it, if I didn't want it, but that's me.
Yo erle & zak! I'm also going to send you out some of our fixie/singlespeed tools! thx for your feedback and sweet pics of your fixies.