Considering they're state-sponsored, it might have been easier to sanction
I sometimes wonder if the subtlety of national champion's jerseys is to aid in them being undetected within the peloton from a few wheels back. Fabian would stand out a lot less now than he did with the red jersey/big white cross.
As far as Bouhanni is concerned, it wouldn't matter if you could spot him a mile up the road, he's not going to bother anyone.
Good sprint by Goss to win the 2nd Stage Tirreno
And Albasini won the Paris Nice stage.
Very good day for Greenedge
On Scarponi:
In the light of the events linked to the 2012 second semester, Team Lampre-Merida asked and obtained the correction of the agreements on which the professional relation with Scarponi were settled for the whole 2013.

During the negotiations, the parts were assisted by the respective attorneys Andrea Melocchi and Alessandro Sivelli.

The relationship between cyclist Michele Scarponi and Team Lampre-Merida will end on December 31st 2013. The athlete voluntarily endorsed the effort to resign from his position if further culpabilities linked to the sport and/or ordinary justice therefore contrasting the contract and the internal ethic code of the team.

At the end of the meetings series, it has been agreed that Michele Scarponi comes back racing in Gran Premio Città di Lugano on Sunday 24th of February 2013 and that he'll perform a calendar of races that are suitable for the technical qualities of the athlete and that are compatible with the ethic and agonistic aims of Team Lampre-Merida.

This agreement is characterized by the privacy clause by both parts
He was certainly a protagonist in the Paris-Nice stage last night - up to the point where Porte dropped everybody, anyway.
Great to see Porte get the win. Still, fuck Sky.
Porte - Sweeet!
Sagan - Daaaaymn!!
Schleck - meh
Is anyone else starting to think Sagan may be a little too good to be true?
Just catching up on results after a weekend away. Thrilled to see Porte get the win. I honestly didn't think he had it in him. I always wondered if he'd just got a little bit lucky with that big break at the Giro to get in pink, and subsequently had expectations on him that were a little too high. But he's totally proved me wrong. Look forward to seeing him lead his own team at a GC in a few years time.
Also pretty stoked to see Froome lose time at Tirreno. This whole SKY domination thing ain't good. Plus I'd picked Nibali for the win on roluerderby (how you going there Watson?).
As for Sagan, I do sometimes wonder, but it's not as though he has improved overnight. He was winning stages at California back in 2010, and was in the break at the TDU on Willunga with Evans, Valverde and Luis Leon, and this was when he was only 19. It kinda sucks that we have these little doubts though. Fkn Lance.
Word. He isn't a flash in the pan, but hope to hell he's clean.
Amazing pics of frozen riders all over Twitter from inside team buses. Robbie Hunter looks about 60 years old.
Tired this morning after watching that.
Thought after they cut it down it may be 80kms to go. It was 130!
Sagan was shocked, the look on his face was priceless after he realised he was beaten.
Fabian will win T of F and P-B
Taylor Phinney…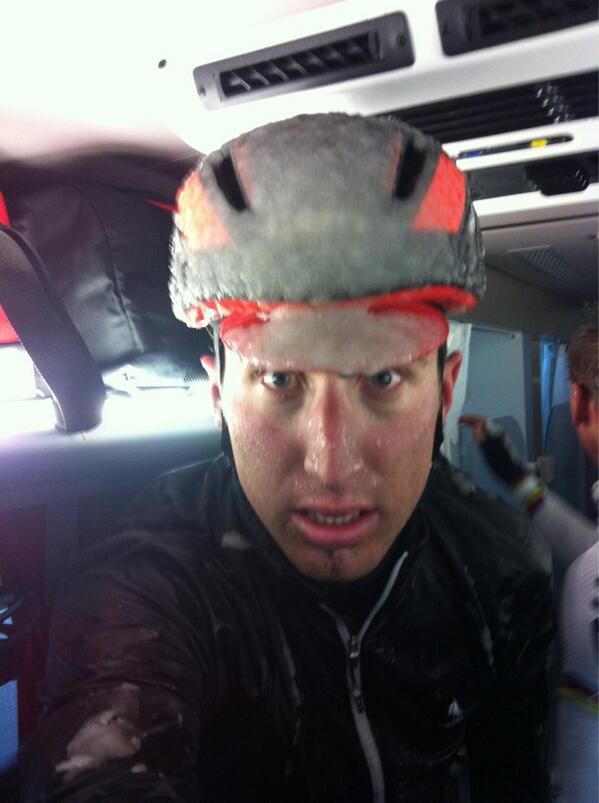 He went close but no cigar yesterday in the ice. I reckon he's got the goods.
PLEASE don't make me go back out there…

VERY disappointing that the Fantini-Vini bus doesn't have neon yellow curtains on the inside.
Is it true that Ciolek means 'idiot' in Polish??
just came across this pic from the tirreno-adriatico. Never heard of the race but that looks realllly steep.
They hit that climb 3 times during a 200km+ stage. It was 27% and as it rained, some riders just couldn't stay on their bikes.
It's a prestigious race, Cadel won it in 2011, Nibali the last couple editions.