why'd he put such crappy cranks on it?
That didn't give me wood.
I can see how it might seem like a good idea in theory, but I just think it looks awful.

Kudos for him building the frame, it really is beautiful. However he's buggered it up the rest of the build IMHO

He should have gone with far more understated componentry (how possible this would be I'm unsure). The cranks are way too big and a thinner chainring would do wonders. It seems he's gone for ultra-sporty black components where I would have leaned towards silver and chrome with smoother lines.
I dont think he really care about the componants, because HE'S MADE A WOODEN BIKE
isnt that enough?
If your going to do a job do it right.
The frame by it's self looks awesome… as he's built it up, not so much.
Probably would have made the rear end a bit tighter too, just saying.
No that's exactly my point. I love the frame, I think he's made a frame that is very special and worthy of admiration. However as a bike it falls short because he hasn't paired it with the right components IMHO. As an exageration, would you put a pair of cheap Alex rims on a hand made De Rosa?
Good effort and it's nice to see something a bit different.
But it looks strange with not much tyre clearance at the seat stays but heaps of space between the tyre and the seat tube.
the "Woodman" headset is a nice touch.
Gee, I could sort him out with a set of our woodgrain Deep V's!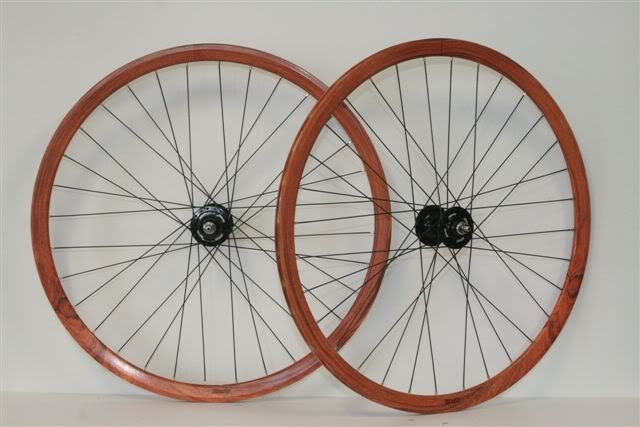 TEAK WOODGRAIN
BURLWOOD
And this fellow sent this to me a while ago.
Its woodgrain contact if I remember correctly.

---
Fucking hell, there is a crazy amount of work went into that.