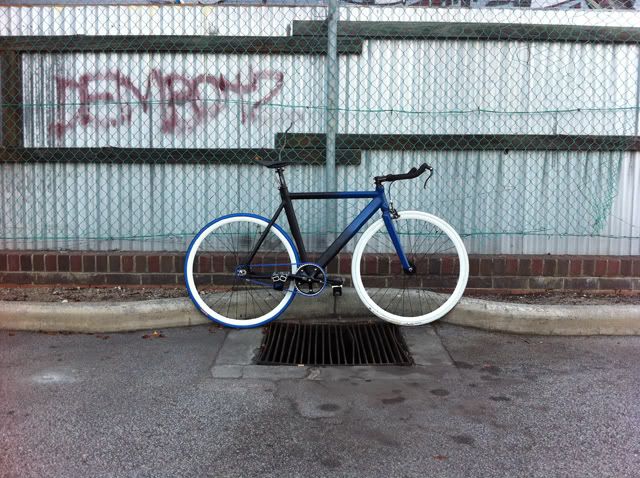 My VISP build. Wanted a new bike to replace my cheap roadie conversion, and didn't want to spend mega bucks either. Was gonna buy a fuji track classic, but ummed and ahhhed and wanted to build something myself. Thus- after lots of reading and establishing that a VISP frame + Alex G6000 ebay wheels where the best bang for buck in terms of $$$ i wanted to spend, here we are.
Frame: VISP 54cm Aero seat post model, with included seat post and headset and custom rattlecanned blue fade.
Wheelset: Alex G6000 with Formula hubs courtesy of eBay
Crank/BB: Eighth Inch 165mm Cranks 46T Chainring / Cheapo $20 BB
Sprocket/Locking: Sugino Fixie track cog system, 17t Sprocket installed
Chain: KMC Blue
Pedals/Straps: Odyssey Twisted / Skin Grows Back Straps
Saddle: Ebay Carbon Fibre special
Bars/Stem: Ebay bullhorns wrapped in black bar tape / RaceFace Stem
Brake/Lever: Tektro R530 / Tektro RX 4.1 / Blue cable
Cheap build, im happy with how it rides. weighs in at about 8kg on the bathroom scales. Much better than my conversion and didnt break the bank balance

I just want to get a new headset for it, because there is a tiny bit of play in it.
more pics…