How many bikes you know roll like this?
Hmmm, not sure if it's a good one.
Those rims are not OEM, Lx cranks? and I am fairly sure those brakes (breaks, for the misinformed) are hydro CODA which suck balls. At least the hubs have 6bolt rotors, the early ones had 4bolt rotors in a weird size.
Here's my old one F1000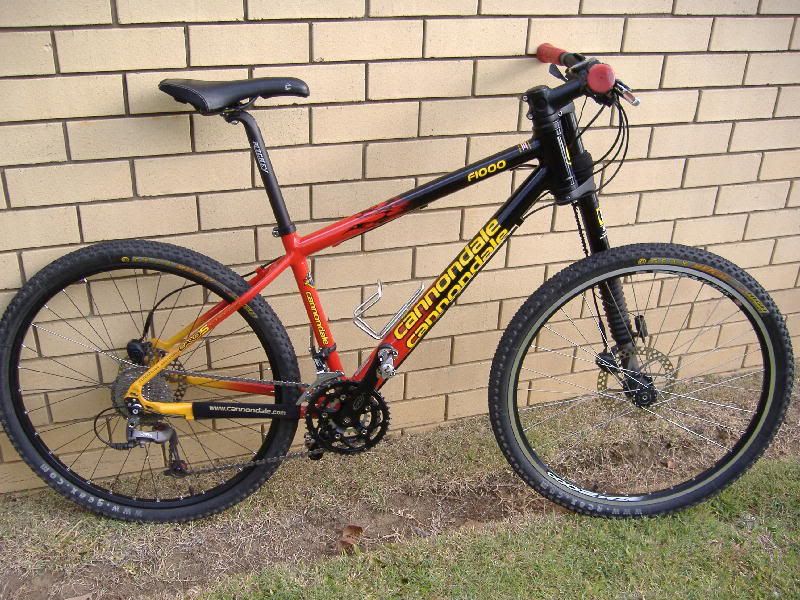 that thing is the ugliest. wow.
Really?
Always loved the paint job myself.
Agree with you Dubrat, that seems a better buy. Coda cranks are wild.
The volvo period at cannondale was by far my favourite,
Missy Giove, Cadel and one of the two trials guys that is now famous for the roadie trials crap.
The bmx's are porn and i want one.
Too young to even understand.
Tinker Juarez!!..I had 2 CAAD3 Mountain bikes back then, a Red custom build with XTR and a mango coloured F1000 I built into a trails bike. I'm pretty sure they only made like 3 of those Volvo coloured BMXes…total holy grail bike
And remember this video dayne?:
The guy was racing and dominating BMX back in the 70's. Now he dominates long distance road races although apparently he has retired recently…he's like what 50 or something now?
That Tinker's Garage and Swag Shop is balls! Wish I lived in the US sometimes
Yeah i remember that movie, Missy ended up retiring from mtb and then got done for dealing drugs and is in prison still i think.
charges of conspiring to possess and distribute over 400 pounds of marijuana. Giove has pleaded guilty to the charges and was facing a mandatory minimum sentence of 5 years, a maximum penalty of 40 years imprisonment and a fine of up to $2 million. On November 23rd, 2011 she was sentenced to the time served, six months of home detention and five years of supervised release
Dat. Shi. Cray.
I sat next to Missy and Leigh Donovan in the shuttle troopie in '96 in Cairns at the mtb worlds.
Being Aussies, we told them stories about Cassowary. They thought we were having them on.