Howdy All,
i bought myself a Chicago Velo Campus Race Track Bag late last year, as my BOGear Dufflay was too awkward when carrying my gear to track.
Generic Stock Pic:

in honesty, i was just looking for a track tote to throw in my Dufflay. i used its single side pocket for all my little bits, which meant things got scratched and dirty that shouldn't. i came across a forum thread that mentioned their track tote, so went to their site and saw they do bags that come with the tote. for the price difference between their bag+tote, and just a tote elsewhere, i couldn't help myself and bought one.
the multitude of zips makes it a bit busy on the outside, and it took me a while to work out which one did what.
but from the vented & expanding side and helmet pockets, to the internal drink bottle storage. tiny side pockets for wallet/keys/phone, a separate tote pocket, and foldout foot mat to keep your socks clean/dry when changing shoes…the little ideas this bag has are great.
because of it's smaller size (i'll put in pics of it against my Dufflay, BullPup and MW Vandal) it makes you think about what you need and where you'll put it. you can't just expect to throw everything in the main pocket and have it be accommodating and well balanced on your back (silly Tate). i'm still able to take everything my Dufflay did to track, and now i can do it without the small handles digging into, or falling off, my shoulders when i used an extension strap across my chest; ala this. it's also not amazingly comfy, even with the cushy back padding. some testing, or even copying of other designs, in this department would've been very worthwhile.
if it were rectangular, it'd be ~31L using the dimensions given…but cos itsnot, i'd say it's between the Dufflay (25L) and the BullPup (18L).
i have two gripes with the bag i received. a major and a minor.
me being a profuse sweater, and the back pad being cushy material, we don't get along on anything longer than 10 minutes riding.
the second one is the shoulder strap adjusters. one is finished off with the fold-back-and-stitch, the other end is left heat cut. minor QC issue, but still annoying.
final thought: i love this thing. it's perfectly setup to take all your essential gear. it lives packed and ready in the spare room, just waiting for waterbottles. if i rode to track, and it took me more than a half hour, i'd probably look at something different…or maybe just throw this inside my MW Vandal, given i'd sweat buckets anyway.
While it's sold out on the CVC website, it can still be found elsewhere. Below is the current cheapest price i could find.
shoddy line-up showing size comparison: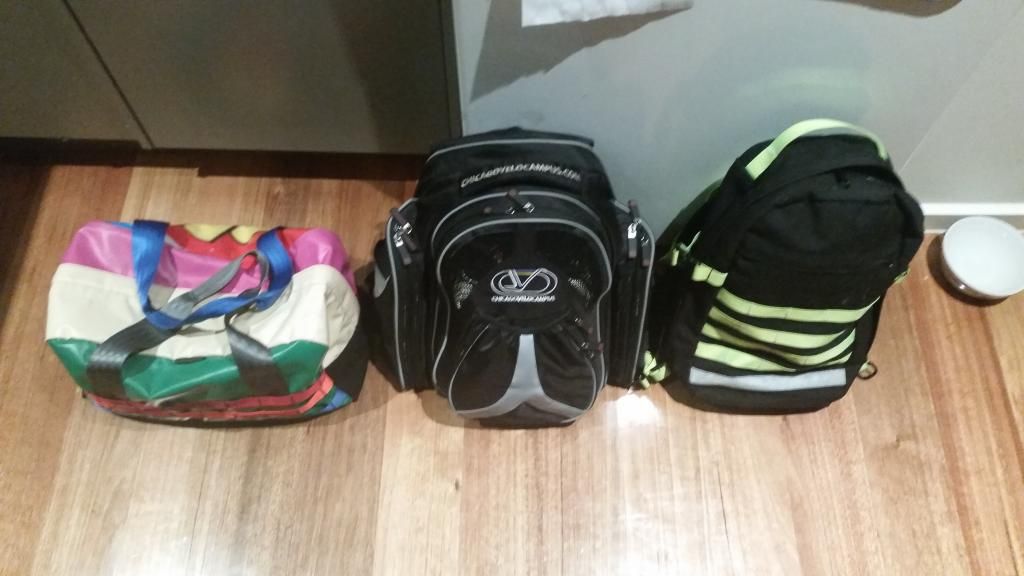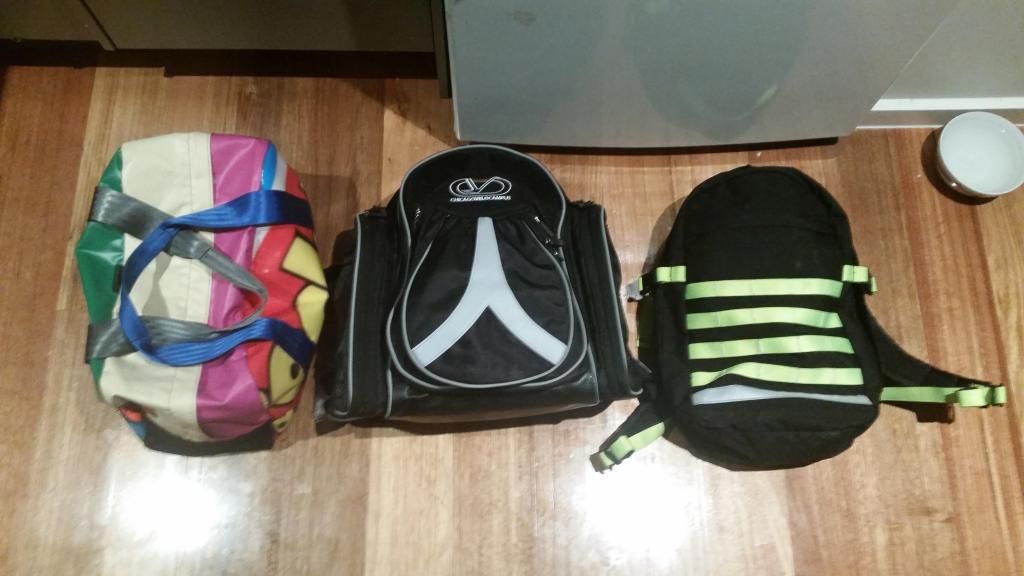 and here's a short list of what i take to track in the bag:
2 skinsuits, undershirt, pair of track shoes, helmet, 2 pairs of gloves, socks, 3 water bottles, snacks (in the fourth bottle spot), tub of embro, towel, torque wrench + required allen bits.
& the track tote with its 5 chainrings, 4 sprockets, chainwhip/lockring tool, pedal spanner, long handled allen keys.
thanks for putting up with my horrible prose.
dF