Any recommendations/advice on kids helmets for toddlers?
Do the straps up nice and snug.
lazer make a pretty sweet kids ones
Baby P!N2 had a small head, so it was a bit of a struggle to find something that didn't fall over her eyes! I went with a Netti Minimax in ladybird colourways that I think was a 45cm. Seems to be going alright, but I noticed the shiny plastic stuff is coming loose.
Needless to say, she hates wearing it.
I went to KMart initially, but none of their helmets fit on my kid's head. Eventually found something at the bike shop.
So I guess my tip is: take the kid with you and find something that fits properly. You'll know it as soon as it's on their head.
Another tip: before you actually get around to going for a ride, get the kid used to wearing the helmet around the house. My boy will bring it up to me and want to put it on now, so he's pretty used to it. Worse thing is them having a meltdown about not wanting to wear a helmet when you're a few kms from home. If you get them used to it you should avoid all that.
I had the exact opposite problem. Babymetal has a massive melon and it's kinda square at the back, so we really struggled. Can't remember the brand, but it's kid-specific and fitted great. He looks like bloody Sputnik running around with it on though.
the type with 'dial' at the back seem to work well from my experience, seems to keep the lid in the right place and let the straps do their thing…
+1 to taking kid to shop and checking fit.
I'd recommend something with a strap that adjusts easily - when you're mixing it up with various types of beanies and stupid hats it's nice to be able to easily adjust the strap without pulling their head off / clamping their jaw shut / pinching their skin in it / using so much force your hand slips and you smack them in the nose. So many cheap helmets have that bullshit rough webbing.
Also try to avoid one with a way too bulbous back on it - tends to either push their head down or push the helmet over their eyes in the baby seat. My baby seat has a slight concave at the head, which helps to a degree. A more rounded helmet is better.
My kid's got some Giro thing that's alright but not fantastic.
Edit:
As with the straps. Pinched skin and punched noses really don't help in making the kid love riding with you!
Giro make real good kids helmets.
My mate Sam sells a freaking shitload of Nutcase helmets in his shop. They do a lot of different sizes from kids to adults. Could be worth a look.
I agree that they work, but they have also caught my daughter's hair which wasn't fun to get off
i got alice a Giro one with bunnies on it.
We've got a nutcase one. I''m sure it's been worn around the house far more than it has on a bike.
The strap connection under the chin is magnetic, super easy for adults to get on and off, but the kids are unlikely to work out how to get it off, as you slide the straps perpendicular to each other, rather than just pulling them apart.
My boy started in a Thomas the tank engine one. It was the smallest i could find @48 cm size…cost $30ish from a department store.
That was at 2 and a bit and he rode a wooden balance bike like a demon.
As he got faster…think laps of BMX track and kiddie racing at CX i bought a nutcase (from Sam @ treadly) in a 52cm. With max' pad size means it just fits him now at 4 1/2. He loves it though and that is what is important…Getting them to want to wear it.
He now rolls on a 16 inch bike and can do 20km/h + easily.
His lil' sis is getting a Balance bike and a $30 nutcase copy in 48cm for xmas at 2 1/2.
Good times when kids want to ride.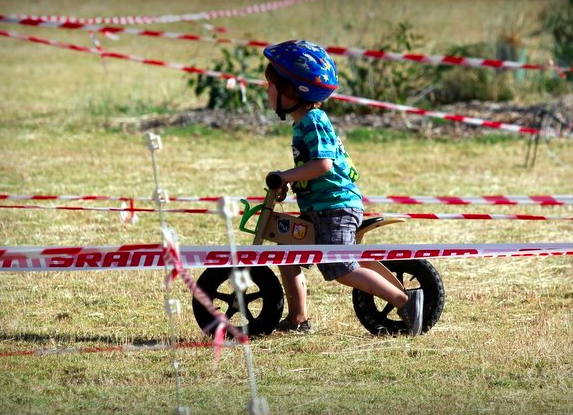 I think the Limar is one of the best kids helmets.
Around $50 and feel good, light and good adjustment .
Lazer P'Nut is my pick:
Bought it when son was 9mo, still wearing it 2 years later. It's got a spring-loaded sort of inner so it doesn't wobble around and require heaps of strap adjustment like cheap helmets.