what are you on about?.. and also this has already been posted
campy = italian ~ pasta
dura ace = japanese ~ rice
(I assume)
you never mix pasta and rice, ever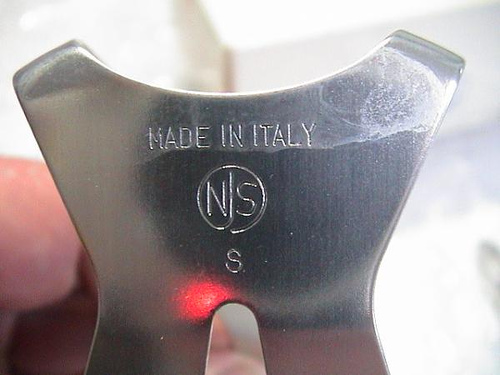 check this gallery:
Campagnolo NJS approved Goods - a set on Flickr
I thought pasta was brought into italy from china?
thanks shortsie. not sure if you have heard that phrase before or how long you have been into the new fixie craze, but it is not really the done thing to mix shimano and campy. in this case the rice has been built into the pasta. sorry if i offended you so deeply.
i love the campy njs parts icecream, don't quite understand why people go so mental for it $ wise but each to their own
Wow icecream, what a gallery. Like an NJS lollyshop:
Campy sheriff star hubs drool

well people go nuts for campy parts… they also go nuts for njs parts… put the two together and its a foregone conclusion.
njs sherrif stars holy fuck i just split the codpiece area of my girl black jeans!
i'm not sure it makes sense for girl's jeans to have a codpiece area. perhaps girl black is a colour?
Based on the above comment I have no choice but to stand by my original statement.
I curious to know if this is really the case. I'm still going to do it regardless of the opinions here.
I like frogs legs with my pasta and rice

I kinda miss Shortsie.
GOLD!
i second the 'bring back shortsie' motion