The first ever FOA Post your TT Bike thread.
Let's see em. Old and new, post your TT bikes.
The tri athletes are taking over the asylum ;p
Shall attempt to dredge up photos of mine when I get home
Subscribed.
wait, you have a TT bike?
As of this afternoon.
And I've already learnt something I never considered. It's tricky putting lights on a frame like that.
I wish i still had my merlin. Kudos to you, Nick, for picking that thing up… So fast! So painful!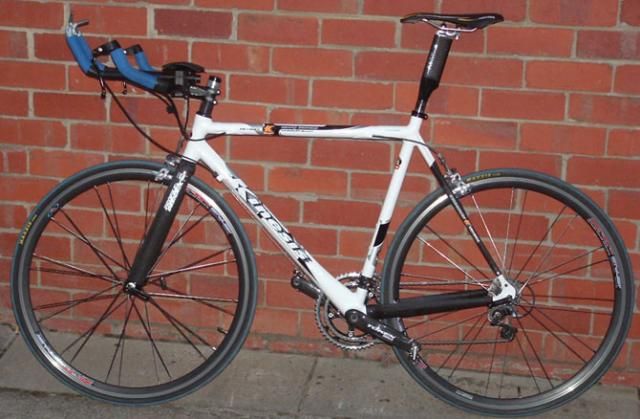 it's even more embarassing than i remember
NDS pic what can i say i was young (or more accurately i've lost and drive side pics that may have existed)
RSX 8sp
6403 brakes i still have
used to TT commute to work
Thats rad

I sold this to someone on here. Bizarre looking but fast and somehow big enough. Always thought it eeded a more adjustable aerobar but it was pretty close as it was.
I had one of those Kinesis frames. It was fucking awful. Cornering on anything but a smooth surface was a near death experience.
duno about handling cos TT is all about going fast in a straight line

the chain stays did end up cracking after very limited use. lonitudinal cracks so probably a manufacturing defect.
was hella cheap though which is why i bought it.
Also that size is, despite the almost vestigial head tube, a 57
I rocked this for a while, was fun. I made the riser spacers out of the original seat post that was too short #almoustpromechanic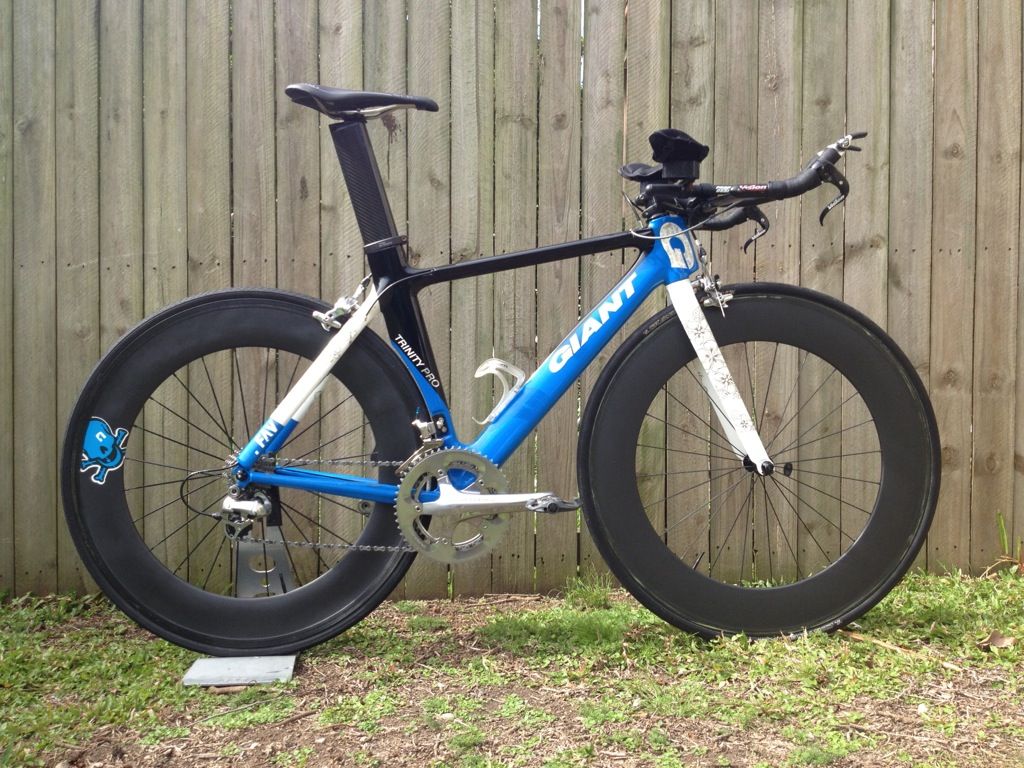 Thanks JP. I probably won't taste the pain properly until next week. Got a a few days off work so I'll head down to the velo to see how bad I am.
I think you probably subconsciously inspired me all those years ago with this…
Or it might've been when we first met and you hammered around Brunswick velo with your glistening muscles on the old Hillman

Raunch! Will keep an eye out for some TT action on your part

That QR looks bloody rapid!
My P3 in its latest incarnation after upgrading the PM to wireless. Still to swap out the rear Simkin egg aero brake for a Shimano AX brake as the Egg brake sits wider than the chainstays.
P3 without the c! And before it went back to p3

thats bloody nice… I had an sl for a v short period of time and it was fast. Sooooo long n low!
As nice as it would be to get one of the latest superbikes, the old P3 is still a relatively fast frame. Tested as aero as the old carbon P2 which was a good frame aerowise and quite underated…
From an earlier incarnation when I was still running a Zipp 950 8 speed cluster and Vision Tech trimax integrated bars which were later banned by the UCI due to their aspect ratio.
I know nothing from experience about TTing but I have read that an aero frame is way down the list of effective aero upgrades, at least compared to good aero position, skinsuit and wheels.