What would the legality of this bad boy be? Just the same as those pussy ass velo's with motors? Easily worth the $250 starting price.
I'm gonna build me one of them one day :mrgreen:
My inspiration will be taken straight from this mostly original Cucciolo (Ducati) I saw at Auto Italia (Canberra) last year. They are somewhere between a bicycle and a derny (motor pace bike) and I think very cool.
yeah,i thought of using one of those chinese jobbies to make a little cub. apparently they don't last…no balancing/quality control…need a blueprint. got any good cub links spirito?
"CAUTION: THIS IS A BIG BOYS TOY - EXTREME FUN IS POSSIBLE ON THIS MACHINE! NOT SUITABLE FOR PEOPLE WITH WEAK HEARTS!"
classic
:lol:
Hey … I'm a contrary kinda guy. Sometimes a wank is better than a blow job :-o


I just want one of these!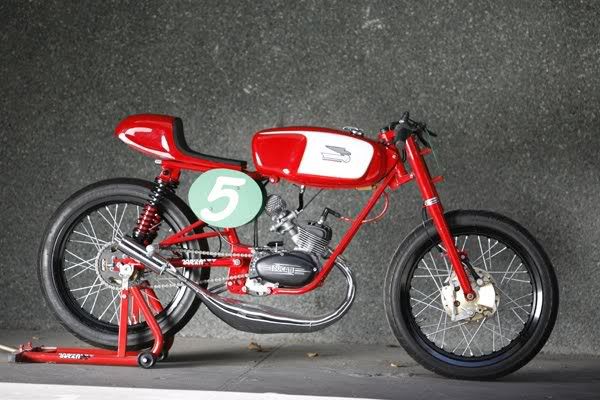 also, i assume you guys all know that mopeds are taking the US by storm, all the hipsters are digging up the ones sold in the 70's era oil crisis, and forming scooter gangs.