Hi everyone,
Thought I would post an update of my road bike. I posted this bike previously in its older guise (HMC's track and road bike).
Originally bought off Mitch Allen (of Aqua blue mechanic fame, believe he was dogged hard when that team folded) in about 2013.
Those of you who know me will know my cycling history. I've ridden since I was about 12. My first race was at Glenvale in 2005. Didn't really pursue it properly until 2010 when I fully committed to racing for about three years. I was absolutely terrible but I loved it. Burnt out, quit bikes, did an MA and PhD in philosophy (trolled here, much to the annoyance of everyone I'm sure).
Come late 2019, I was a bit fat, and drinking too much. My PhD was finished. I had the Caad, but it had cursed Ultegra 7900 on it which made me want to cry. I rode it once at the end of 2018 and quit bikes again I was so disgusted. Anyway, end of 2019, I decided to treat myself as a post PhD gift. I called Nick at Saint Cloud and said "Even though I was a mechanic for five years, I can't face fucking around with this bike. Please put Chorus 11 speed on it and Zonda wheels. I will give you my Eftpos card details and I will pick up the bike like a normal customer". He said that was fine.
Anyway here it is. I've been riding consistently for about eight months now, in part due to the lockdown for something to do. Recently, I have felt the old sensations creeping back - I am able to take certain climbs in the big ring, and I no longer want to dig my own grave after each pootle around the block. I don't have a power meter but I am full pelt back in love with bikes again, and I can feel myself well on the way to over training once more.
Sorry about the shit photo, I am terrible at that as you can. Just like cycling. Anyway, I love this bike so much. I've decided that this era of bike (circa 2010) is possibly the high water mark of bike frame design. Horizontal top tube, really nice and stiff, good geo. Part of me likes that bikes are now more diverse and more attuned to different surfaces, and I'm all about the gravel bike thing. But also, sometimes, it's nice to have a traditional road bike that was built to go fast. This bike handles superbly, and it's a genuine joy to ride. Nick set it up so well.
The specs are:
11 speed Chorus everything (39/53)
Zonda Wheels
38cm FSA alloy bars/old Pro stem from 2012.
Specialised Saddle that Westcoast Pete kindly gave me.
Bar tape which Nick chose that is amazing but not sure of brand.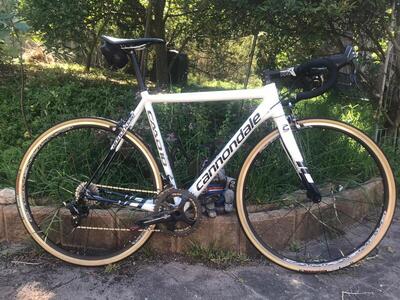 Edit: her's a slightly better photo, still various sins tho (small ring, cranks wrong position etc).