Okay, thought id keep all my crap in the one thread. This will be a a bit of journal to keep details on the bike build, gear, rides etc. Hope to hear both awesome advice, feedback and of course the ribbing and bagging that i expect of FOA =D
So why mtb, and why now?
Dont know really, just wanted something different from both a fitness/training and a tinkering stand point. Having joined FOA and really get into riding via mucking around with retro roadies, i thought id do the same here. Only this time around i have a better idea of what i want and what ill actually ride (i think).
Im gonna be honest and lay it out that its more the bike itself that is the hook for this more than anything else, hence the search for something a little different to your off the shelf buy.
Budget is obviously a key factor as im not sure how deep im gonna go, so as much as id love a steel ritchey or something like dubs serrota it aint gonna happen (yet). Im a massive cannondale fan so i figured ill stick to this route as the main bike id like to end up building.
Have had a few offers, and have spotted a few things, nothing committed to yet, i reckon overall budget id like to keep under $500, and my recent gumtree wins have helped me a long way
So, what my current $120 of $500 has got me so far
$20 - mid/late 90s KHS Alite 500, 7005 alu frame. Came with 7spd acera RD/FD, Truvativ X-Forge cranks, Manitou Six forks, everything else pretty generic. Pretty happy with this buy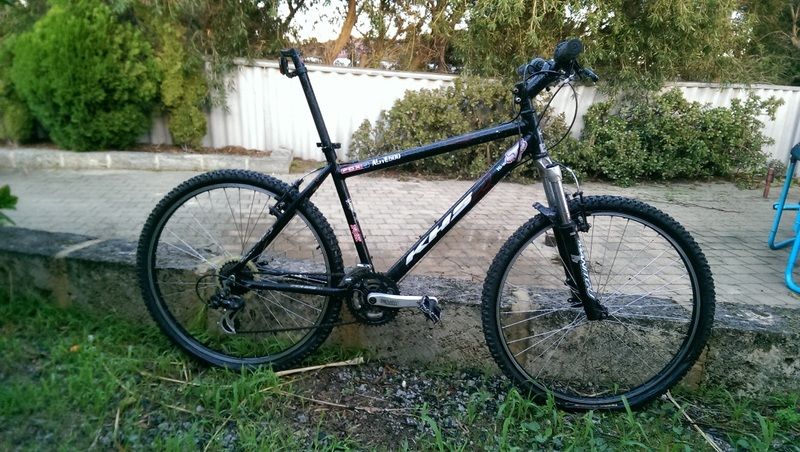 $100 - bunch of bits that i was stoked to have found
Bell Super lid in my size and as new
pair of stans ZTR crests rims that have been drilled so only to be used with tubes
pair of michelin xcr tyres
pair of bontrager x3r/x4r team
thomson post - 30.9
thomson stem - +10 110mm
some xt chainrings - 42/34/24 i think?
xt cassette (new) -
xt deore triggers - new 9spd
xtr rd M960 and fd M960 - used but look in good nick
xtr disc brake set and tektro discs - used but look in good nick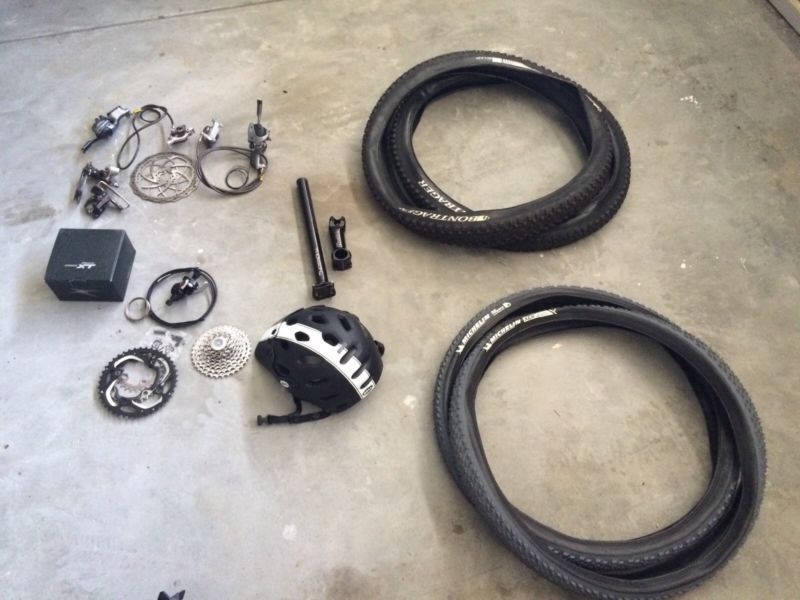 That find has sort of given me incentive to do a little more than just fix up the KHS
Essentially, my plan is now to convert KHS to SS with a rigid fork, using all stock parts that the $20 got me
Then use that manitou fork (which i know isnt the greatest) to pair with an older cannondale hard tail ive got my eye on
Cannondale Option 1 - $550 asking price 1999 F2000. i like this, but paint is starting to bubble, and a bit over budget. Positives are frame is disc tabbed, its a dale, like the colour, and the wheels look decent? Ive offered him $300 for what you see in the pics less gears/discs/post/bar/stem. Hes having a think.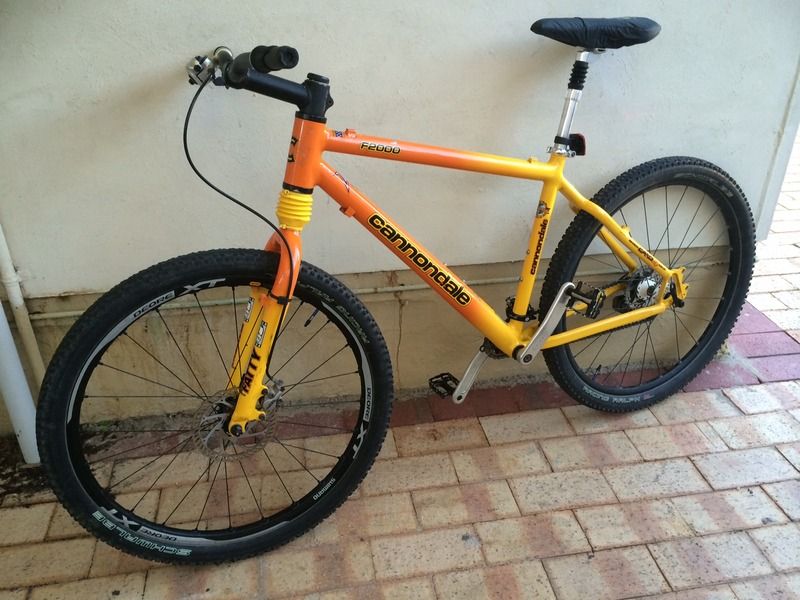 Cannondale Option 2- $500 asking price 2002 F900, xt build and crossmax SL. No pics yet, i think its similar to that volvo replica scheme. BNA member, good bloke, know his shit, i havnt made an offer yet cos he hasnt sent me apic