i think you should go to a bike shop and try as many bikes as you can in your price range, then buy the one that's the most comfortable.
but i don't even have a roadie, so what the fuck would i know?
yeah, that's what I've done and narrowed it down to a cannondale and the pinarello
Keep in mind you do pay for the brand a good deal when it comes to brands like Pinarello and Cannondale. Both great bikes, but at the entry level they don't always offer value for money.
That said, looks like a great bike.
the pinarello is a 2009 model and has a veloce groupset on it, the 2010 has another brand. the cannondale has 105 and was heavier than the pinarello, not that bike weight is a huge issue, both felt great. the pinarello is cheaper
giant.
seriously.
they look good and are good value for money.
If your gonna go for Giant, go for Azzurri. Look much the same and life time guarantee on frame. Nice touch.
hmmmm… I had a low end giant many years ago and it shat me to bits. It put me off the brand. But I'll have a look on yr recommendation. As i said I'm going for entry level so which model should I look for?
I think for $1999.00 or there abouts, the FP1 is a nice bike. Like HMC says, you're paying a premium for the Pinarello branding, but that's okay since you probably don't want a boring ultra generic bike. Underneath the branding, you are of course getting a Taiwanese made aluminium frame though. Does the 2009 model have the carbon rear stays as well- this should help with vibrations somewhat.
For the budget it's probably best to stick to a higher-end aluminium frame like this, rather than a low-end carbon frame I would think.
There will be cheaper options like the Giant, but it's a personal preference really.
The second most important part after the frame, is the wheels- have a look at what the FP1 comes with in comparison to the others. This is a big deal, otherwise you might find yourself needing to upgrade and fork out more $$ in a couple of months
Yep carbon rear stays and forks. I thought the frame was made in Taiwan but it's all made in Italy apparently. The research I've done, which is heaps, would concur with yr opinion about high end aluminium too hjb
Not to mention being 9 speed you won't churn through chains and clusters like a 10 or heaven forbid an 11 speed groupset.
Actually that's a good point- is it 10-speed Veloce?
I'm just trying to remember- I think it might actually be ten speed
Much more likely, 9 speed campag has long been outdated. Well, beter ten than eleven…that shit is temperamental.
Hey Hamish, If you live in Melbourne the shop near the High street and Chapel street intersection had an awesome Home Brand bike that had full ultegra and a full carbon frame for $1999. You might aswell check it out, I've heard some good things.
Considering that a full ultegra group set goes for around 850~ on ebay, it is pretty cheap.
Currently trying to remember the name, will get back to you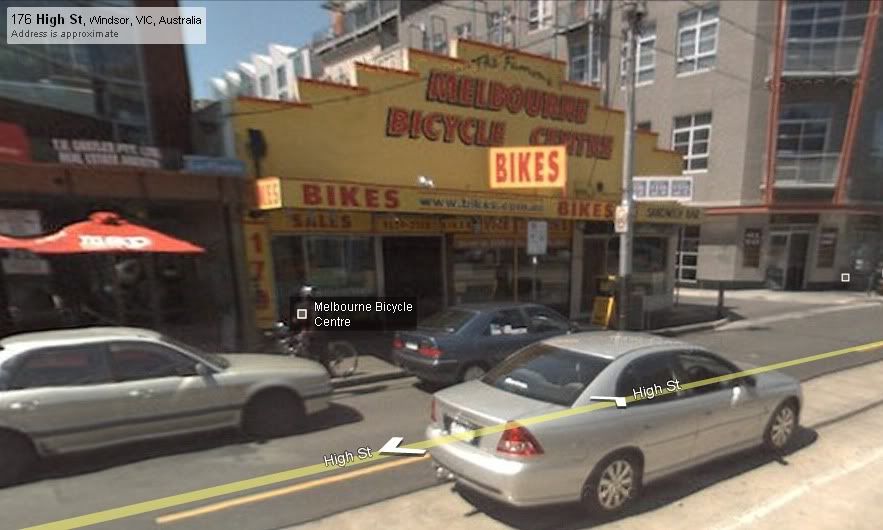 Even found the exact bike, (ps: check out savings)
Ps: may not look as good as the Pinerallo but remember, function over form (might not be true.)
Just an observation - a few of these have been turning up at Vets races lately - can't be too bad if cashed-up vets are racing on them.
what about a nice retro steelie? surely for that $2k price point you can get something super nice with matching gear?
Or is it the case that your after carbon/brifters etc…
I bought one of the Carbon R1s from melbourne bike centre a few months ago. Great value for an ultergra groupset, full carbon frame. Have no complaints whatsoever. I shopped around for ages and found nothing that even compared in terms of value. Defintely worth taking one out for a test ride to see what you think.
Thanks for that. Will check out the MBC one for sure, thanks LukeR, CC. I bought a bike from the same shop in about 94.
Did think about buying an old steel bike Jaseyjase but decided to go with a new one- I've got all the parts (old campag gruppo) for a 'vintage' build just need to find the right frame, there are a couple of merckx on ebay at the moment. I do actually have a 35 year old Peugeot in beautiful condition I'll be riding on Sunday.
Looking at the R1 seems like a damn good buy, but the attractive thing about the FP1, for me, is its fairly traditional shape.