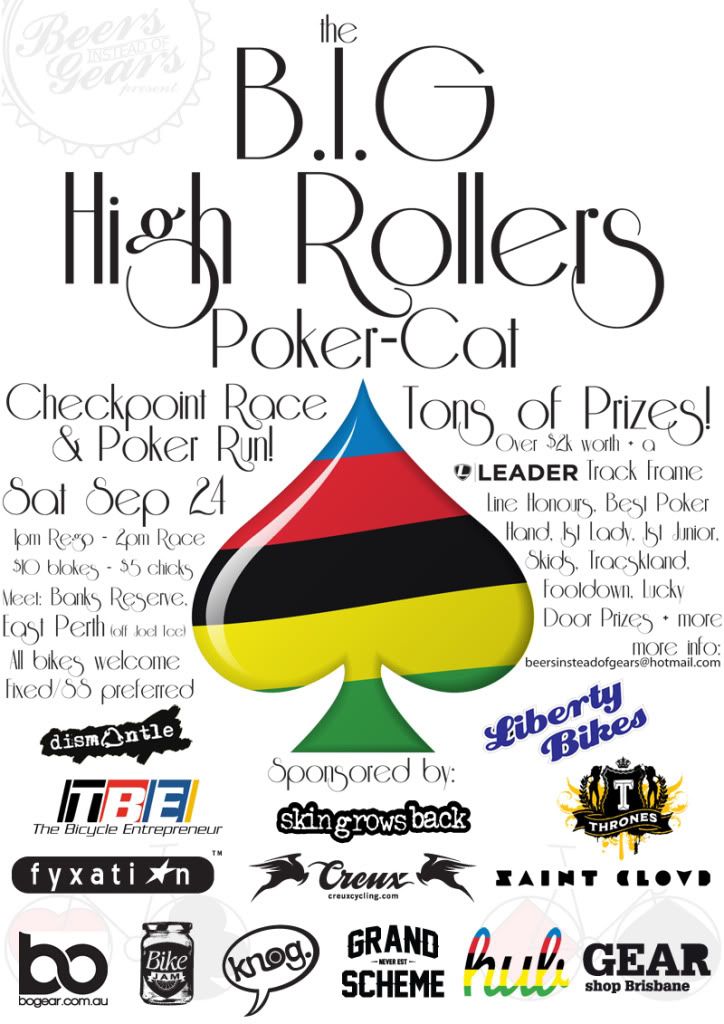 Following the recent success of Simon & Kaspar's JUNGLECAT, the B.I.G guys have decided to put together a little Alleycat for everyone…
The B.I.G High Roller Poker-Cat is a combination of your traditional Checkpoint Race with a side of Poker thrown in!
That way if you ain't the fastest or are the drunkest, or stuck riding a trick ratio, you are still gonna have a chance at walking away with a prize - and believe me, they will be… decent, we're talking a LEADER Track Frame, Big $$ Vouchers + a host of other swag!
This race is friendly to all bikes and styles of riders of all abilities!
Bring your mates, bring your lady - there will be ladies prizes too. WE DON'T KNOW EVERYONE WHO RIDES A BIKE IN PERTH SO PLEASE INVITE ALL YOUR BIKE ORIENTATED FRIENDS YEAH?
It's gonna be an arvo Race - haven't had a race in daylight in ages and come end of september it should be nice and warm for it.
The deets:
Date - Sat Sep 24
Time - 1pm Rego, 2pm Race
Meet Point - Banks Reserve, East Perth - Just off Joel Tce
Cost - $10 for Blokes, $5 for Ladies
Sponsor List Includes (in no particular order):
Liberty Bikes Morley Facebook
HUB (Marty's Label)
GEAR Brisbane www.gearbrisbane.com
BO Gear www.bogear.com.au
Grand Scheme www.grandscheme.com.au
Saint Cloud www.saintcloud.com.au
Bike Jam Bike Jam
Dismantle www.dismantle.org.au
Fyxation www.fyxation.com
Knog www.knog.com.au
Skin Grows Back www.skingrowsback.com
Creux Velowear www.creuxcycling.com
Bike Thrones www.bikethrones.com
TBE Belmont www.tbe.com.au
If you are from a Local Bike Store or Shop and would like to sponsor this event, please contact either Henri or Marty (Event Admins).
We are going to need a couple of checkpointers - so please if you are keen put your hand up! We would also love you to do a little bit of filming on the day! AND we will be hooking you guys up as thanks for your efforts and supporting us!!
http://beersinteadofgears.tumblr.com/
more info: beersinsteadofgears@hotmail.com
EXPECT EXCELLENCE