Good morning all,
This is the latest instalment of James' descent into full blown retro grouch. For previous incarnations see:
I've had a lovely time riding my 2011 Caad 10 these past few years. It's an outstanding example of what aluminium can do, and the importance of thoughtful and uncomplicated geo and design. Recently however it developed a devastating creak. Serviced my bb about a trillion (4) times, and eliminated every other possible source (skewers, chainring bolts, shoes, my knees etc). In the end realised the BB30 sleeve thing was shifting slightly under load. Bashed out the sleeve and re-bonded it in a fairly agricultural manner, but it did the job. Well, it did the job insofar as I got the sleeve out and back in again. It didn't do the job insofar as the creak was still there. Briefly considered seppuku, but decided that was a bit extreme. I'd just do what I do best and quit bikes again. Creaks are unacceptable. These are the facts.
In an extremely unexpected turn of events, I was talking to Sean (The Man) Hurley the other day, who mentioned he had a Time VX Special Pro in a 54. In a fit of hysterical tears, I immediately purchased this frame, the only conditions being that Sean had first dibs to buy it back. Sean, being a Time aficionado, said he bought this bike in Belgium where he repressed the fact it was far too small for him. He didn't really ride it for this reason, and it's been sitting forlorn since then (he has about 20 bikes, like four of which are Times).
By way of slight backstory. This Time is from around 2004-5, an era in which I think bike design peaked. It's also when I had begun to really obsess about bikes, racing, and the various personalities involved. You don't see Time around much anymore and in the face of relentless "progress" they have given in to the dark gods (compact geo, aero frames and the disc stoppy things). But in the mid 2000s, Time was just THE bike at the time, if you get my drift. Traditional geo, lugged construction, intelligent and beautiful design. These bikes were wicked light and strong. Hazy images of Tom Boonen riding these beautiful horizontal top tubed, carbon lugged beasts with square taper cranks made me want to cry (with happiness). Exhibit A, B, C: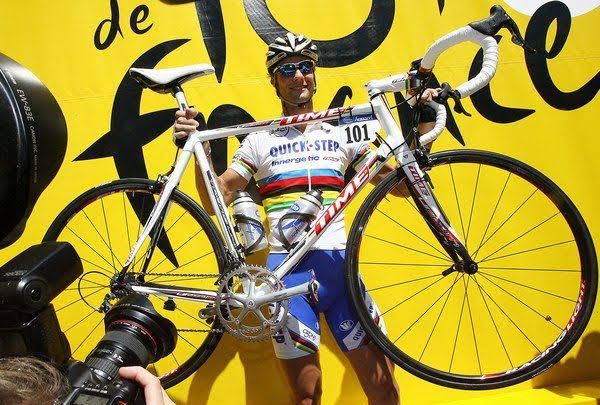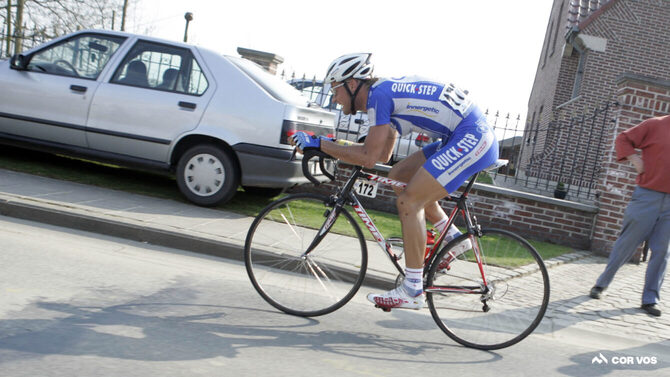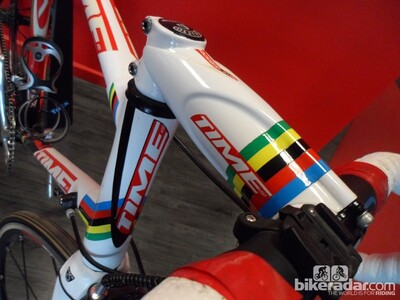 Anyway, I took this bike and put all the stuff from the Caad on it. Wouldn't be a bike build without a late night incident involving a 10mm (not 8mm Rolu), a possibly broken finger, and various tears (unhappy ones) as I shrieked into the night.
The end result here is that I have replaced a fairly old frame with an even older one. Some small adjustments are needed. Due to the 55cm top tube, I need to go from a 140 to a 130 stem. My gf has bought me a 130 NOS Time stem for my bday. She only did this once I explained what a stem was, and why the bit that holds the handlebars cost as much as her bike. She remained unconvinced but I managed to convince her of the absolute necessity of owning this bicycle part.
Even with the fit not dialled, this is easily the nicest bike I have ever ridden. The design and engineering choices they have made are very obvious. The rear triangle is even shorter than the Caad, and the head tube/fork is stiff as fuck. But the rest of the bike is really supple. It's not the stiffest bike I have ever ridden (that would be the Scott addict and the Giant TCR) but it's stiff in all the right places, and forgiving in the right ones. Sean said it rode like a steel bike and I wrote this off as mystical nonsense, but he's right. As he said, Time literally weave their own carbon. If they wanted to make it stiffer, they would. In short, it's the most balanced and interesting bike I've ever ridden. It's designed to be ridden and raced.
I still pinch myself when I look down at the HORIZONTAL top tube and see "Time", It's not everyone's cup of tea I'm sure, but it sure as hell is mine. It's the fulfilment of a teenage fantasy and I am shocked and awed that the universe has seen fit for it to happen (similar sensations to dogs flag 2016, never forget). I realise this post is bordering on the hysterical, but I'm trying to mirror my current emotional state.
Anyway, here it is, the ultimate Euro chariot. It's Time!